Summer is here! And for many families that means it's vacation time. These tips will help you keep your furry travel companions safe if you're traveling with pets this summer.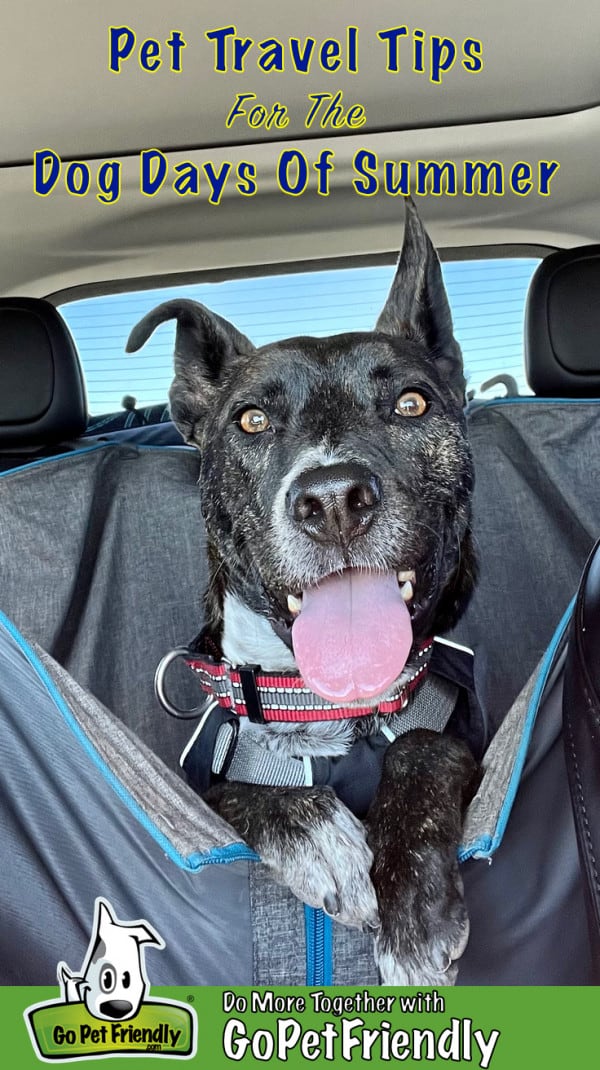 Visit our Amazon store to learn about more products we rely on to make traveling with pets easier, safer, and more fun!
Who doesn't love summer vacation? And traveling is always more fun when you take your pets! But summer pet travel presents some unique challenges. We've gathered these tips to help ensure that you all enjoy the trip.
Tips For Summer Pet Travel
1. Under-Estimate What You Can Accomplish
When you travel with a pet, everything takes a little longer than when you're traveling alone. And that's a good thing! It reminds you to slow down and "sniff the roses."
When figuring the distance you can travel in a day, be conservative in your estimates so you're not rushing your pet along. And when planning things to do at your destination, keep in mind that warm afternoon temperatures could drive you inside for a nap.
A good guide is to make the plan … and then divide by two. If you achieve more than that, consider it a bonus!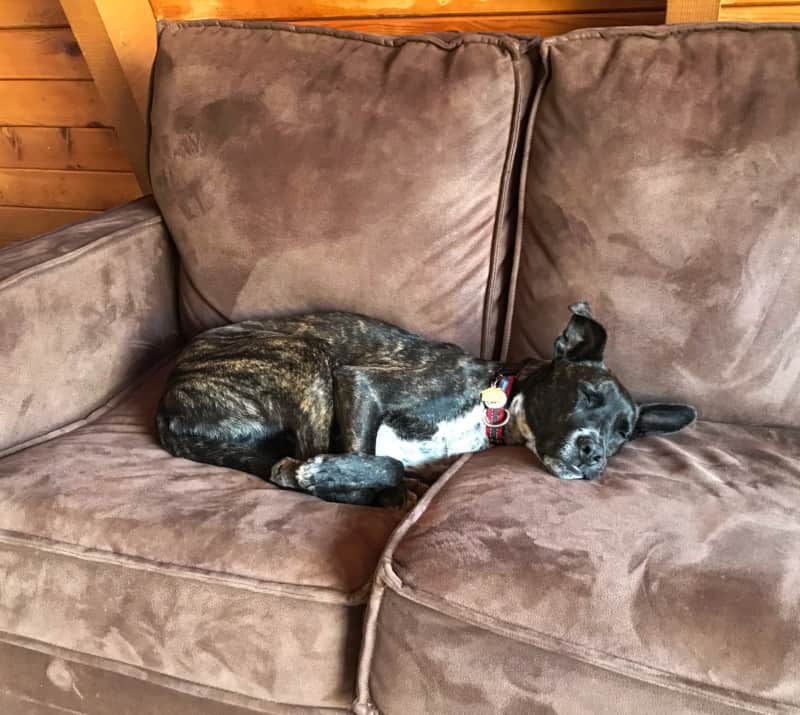 2. Book Pet Friendly Accommodations
Whether you're planning to stay at a hotel, vacation rental, or campground, it's important to understand the pet policy. Some places are okay with you leaving your pet unattended for a while, some require your pet to be crated if you do, and some don't allow it at all. It's important to explain your expectations in detail before you arrive and make sure you are on the same page so you can plan accordingly.
GoPetFriendly has listings for all kinds of pet friendly lodging and activities, from hotels and campgrounds to dog parks and beaches, to restaurants and wineries! You can also check with the local visitors bureau or fetch the locals' perspective by reaching out on social media. With a little digging, you'll find no shortage of pet friendly places to stay and things to do.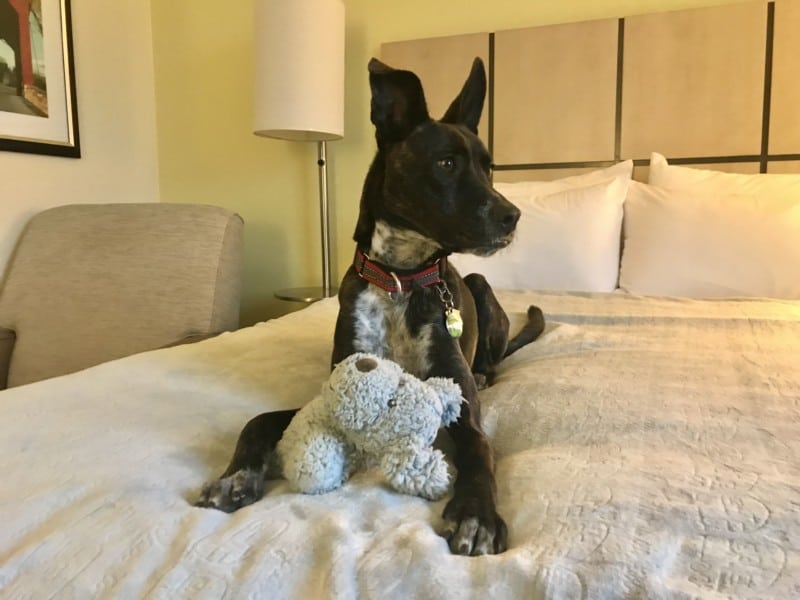 3. Pack The Right Gear
Along with your pet's normal pet travel gear, there are a few additional items to include for summer trips:
Extra water – Whether you're driving or flying, it's important to be sure that both you and your pet stay well hydrated. Carry extra water and a collapsable bowl and remember to take frequent beverage breaks.
Doggy Footwear – During the summer, the pavement — and even the sand on the beach — often gets hot enough to burn your pet's paws. Test it with your hand or bare foot and if it's uncomfortable for you, be prepared with dog boots or a pet stroller.
Temperature Monitor – If you'll need to leave you pet alone for any length of time, consider investing in a temperature monitor. These devices will alert you if the environment around your pet reaches a temperature threshold that you set. (For example, if the air conditioner failed or the electricity went out.)
Cooling Mat – Cooling mats can be used in the car, during a picnic, or at your hotel to give your pet a comfortable place to relax.
Cooling Vest – Cooling vests use evaporation to help keep your dog more comfortable during hikes and other outdoor activities. These vests are often light colored, which also helps protect dogs with dark fur from absorbing as much heat from the sunlight.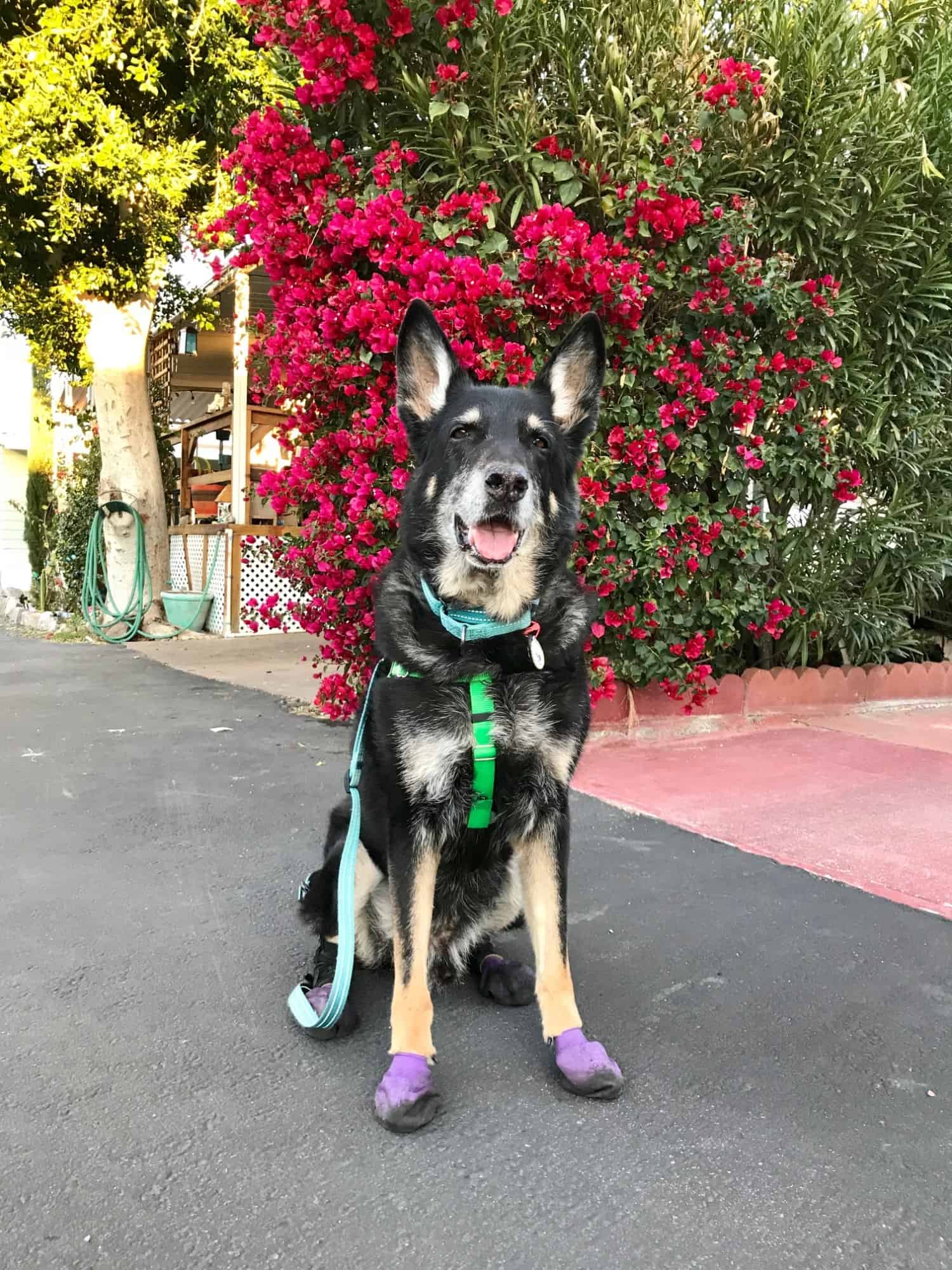 4. Refresh Your Knowledge Of Dehydration And Heatstroke
When you're traveling with a pet during the summer, it's important to watch him for signs of dehydration and heat stroke. Sunny days, soaring temperatures, high humidity, and lots of time outdoors can quickly lead to trouble. Recognizing the symptoms of dehydration and heatstroke in dogs, and knowing how to help, could prevent a serious illness.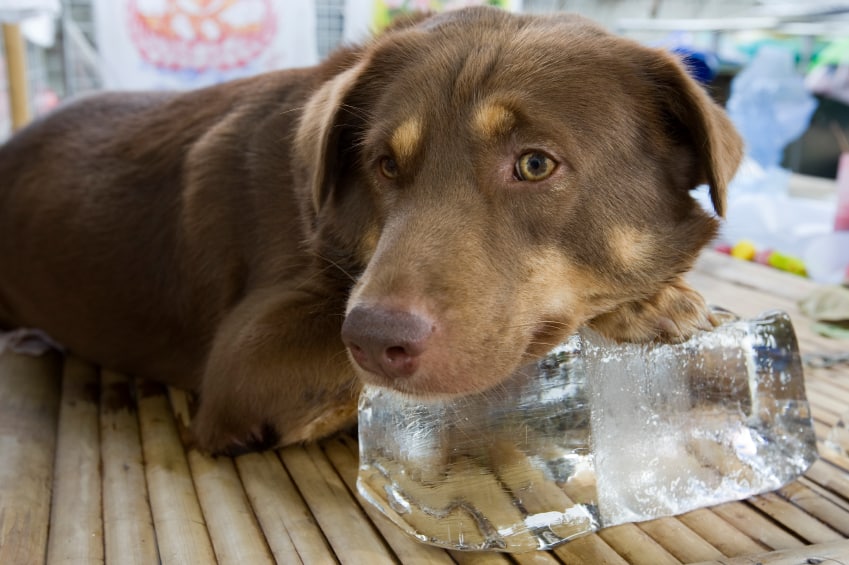 5. Buckle 'em Up For Safe Summer Pet Travel
When you're finally ready to hit the road, remember pets are family! So it's essential to keep them safe by buckling them up. Whether you prefer a seat belt harness or a secured pet carrier, protect yourself and your pet from serious injuries every time you get in the car.
If your pet isn't used to wearing a car safety harness, be sure to acclimate him to it slowly. Start by letting him wear it around the house for short periods of time while you tell him how handsome he looks. When he's comfortable in the house, start taking him for short rides. Then slowly build up the length of your drives until he's ready for your road trip.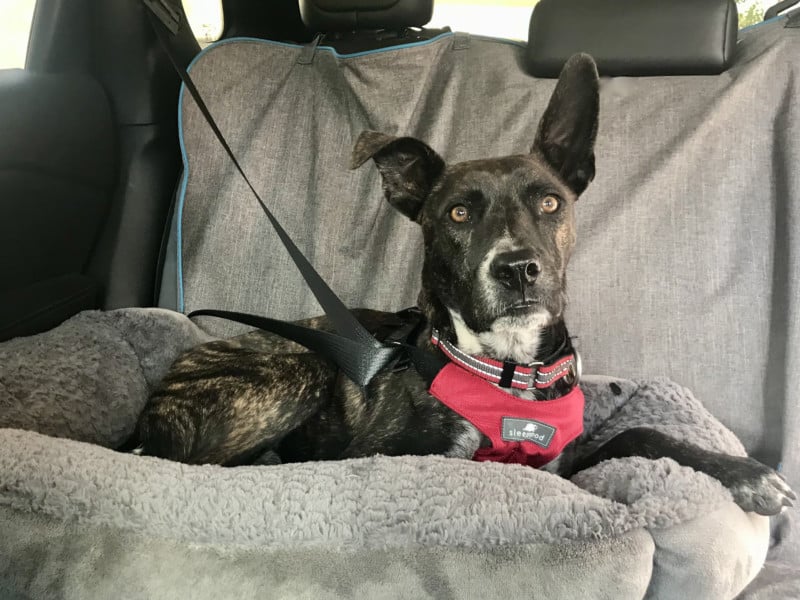 6. Don't Leave Pets In Hot Cars
It's imperative to never leave pets in a hot car. They can succumb to heatstroke within 15 minutes. Ideally someone in your group can walk your pup while you run in to use the bathroom. If you are alone, look for pet supply stores or other businesses that allows pets inside to take your breaks.
If the only option is to leave your dog for a minute, you may need to lock your car and leave it running with the air conditioning on. Be sure that you also set the parking break!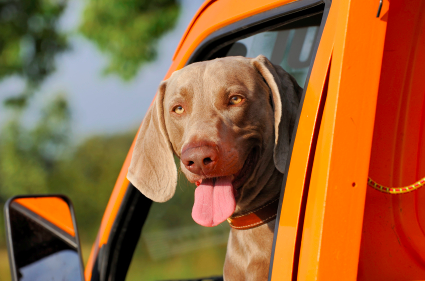 7. Be A Good Pet Travel Ambassador
More and more places are welcoming our pets, which makes traveling together more fun for us all! But it's a privilege that can be easily revoked.
Bad behavior by one person can have a detrimental impact on us all! One of our best summer pet travel tips is to be a great example of our wonderful community.
We can do that by being considerate of others and not foisting our pets (or their noisiness) on those around us. That includes following the rules when it comes to being on leash, and not taking pets into places where they're not supposed to be. And, of course, always, always, always picking up after your pets.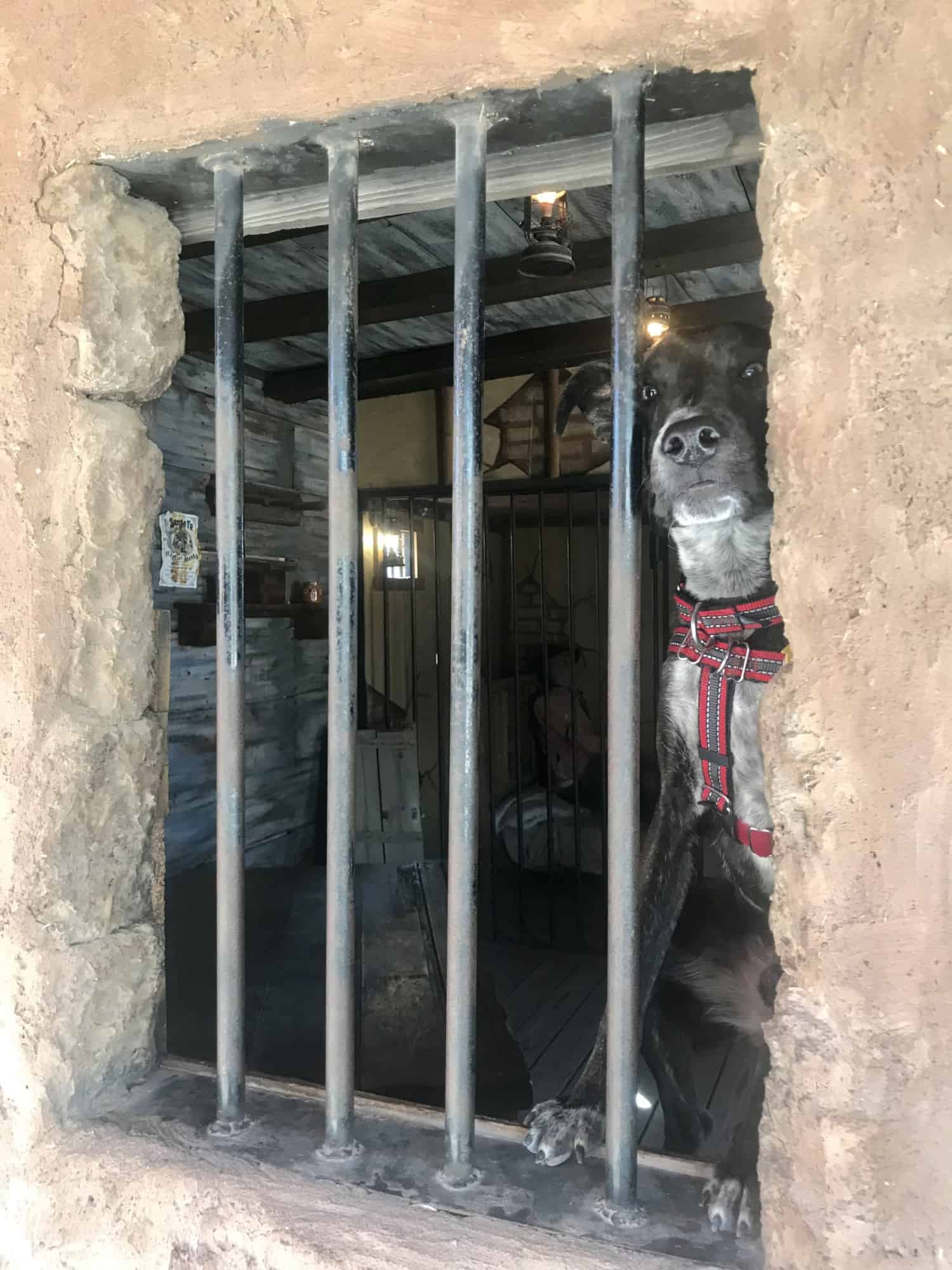 8. Stay Flexible 
When you're traveling with your pet this summer, unexpected things will probably happen. Weather is often the culprit, but other obstacles pop up as well.
Anticipating speed bumps allows you to maneuver around them with grace – either by rearranging your schedule or recognizing that some activities might have to wait for another day or your next visit.
We hope these tips help make this the best pet friendly summer vacation yet!
Visit our Amazon store to learn about more products we rely on to make traveling with pets easier, safer, and more fun!
(Visited 13 times, 1 visits today)