Published:
Last updated:
by Kyle J. Larson

Having a short dog name is ideal for training. If you want to keep your dog's name simple, these one-syllable dog names are perfect. We've gathered over 200 ideas from cute to tough and everything in-between.
By choosing a short dog name you'll have a word that's easy to remember and fast to shout across the dog park. This is a benefit of one-syllable dog names, however you'll want to make sure you don't pick a name that's too similar to any training commands (come, sit, shake, etc).
While there isn't a direct training benefit with having a one-syllable dog name, having a long dog name will make training more difficult. In most cases, it's best to stick to no more than two to three syllables.
Top Short Dog Names
To start off our list of one-syllable dog names we've taken a look at the most popular options and narrowed it down to just the short names. Then we grouped the names for male and female puppies.
One-Syllable Female Dog Names
Ash
Moon
Nyx
Storm
Star
Dawn
Sage
Belle
Bean
Frost
One-Syllable Male Dog Names
Finn
Duke
Bear
Thor
Max
Blue
Scout
King
Fang
Bane
Short Cute Ideas
These short, sweet names are perfect for a new puppy.
Abe
Ann
Art
Babe
Bay
Bea
Bert
Blaire
Bree
Britt
Chance
Charm
Claire
Cort
Dee
Dove
Elle
Eve
Fawn
Fern
Fitz
Gus
Hope
Joy
June
Kai
Kit
Lou
Love
Lux
May
Peach
Pearl
Pip
Rae
Rain
Reece
Roo
Rose
Roy
Sam
Snow
Val
Wade
West
Zeke
You can find the complete list of cute dog names here.
Cool One-Syllable Names
If you want your puppy to be the coolest on the block give your new furry friend one of these names.
Ace
Benz
Blaze
Bond
Champ
Cher
Clive
Colt
Cy
Dash
Drake
Fletch
Gray
Jazz
Jinx
Kane
Lex
Mac
Miles
Monk
Nike
Oz
Pax
Poe
Posh
Prince
Puff
Queen
Quest
Riff
Ritz
Shep
Sid
Sleuth
Sly
Stig
Twain
Volt
Wiz
Zen
One-Syllable Tough Dog Names
Axe
Biff
Boss
Brock
Buck
Buzz
Chaz
Chev
Clint
Count
Dame
Hawk
Huck
Jaws
Jax
Khan
Mack
Mars
Rex
Rock
Rune
Sarge
Scar
Stag
Stitch
Styx
Sword
Tau
Tex
Thane
Ty
Wolf
Zeus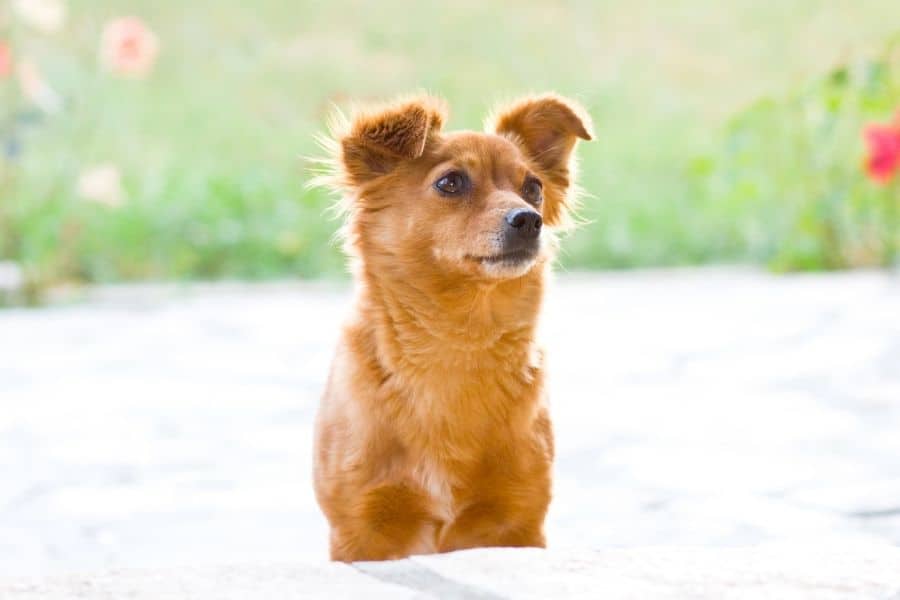 Short Funny Names
If you want your pup's name to come along with a chuckle, then these are the names for you.
Bae
Bark
Biggs
Bird
Bit
Bling
Boo
Chunk
Flo
Freud
Goose
Hunk
Moo
Moose
Mouse
Muse
Newt
Shark
Sir
Smurf
Snoop
Spud
Spy
Woof
More funny dog names
Famous Short Dog Names
These dog name ideas come from famous pups from movies and TV shows.
Beast – The mastiff from The Sandlot who steals any baseballs that he can find.
Blue – The main character from the children's series Blue's Clues
Bolt – The German Shepherd voiced by John Travolta from the movie Bolt.
Brain – The cartoon dog from Inspector Gadget.
Chief – A hunting dog from The Fox and the Hound.
Clue – A basset hound who was a detective from The Adventures of Mary Kate and Ashley.
Dug – The golden retriever from the movie Up.
Fly – A border collie who took in the title character pig in the movie Babe.
Hooch – Giant dog detective companion to Tom Hanks in Turner and Hooch.
Jip – A dog from David Copperfield.
Jock – The Scottish terrier from Lady and the Tramp.
Lad – From the book Lad, A Dog.
Max – The Grinch's dog companion from How the Grinch Stole Christmas.
Pal – A dog from the cartoon Arthur.
Patch – A Dalmation from 101 Dalmatians.
Ren – The unstable Chihuahua from The Ren & Stimpy Show.
Scud – Sid's scary dog from Toy Story.
Slink – The slinky dog from Toy Story.
Skip – The boy's puppy companion from My Dog Skip.
Spike – A bulldog from Tom & Jerry, and also a dog from Rugrats.
Skye – Cockapoo from Paw Patrol
Tock – A dog with a clock in his belly from the book The Phantom Tollbooth.
Tramp – The main male character from Lady and the Tramp.
Tyke – Spike the bulldog's son from Tom & Jerry.
Unique One-Syllable Dog Names
Here are some unique one-syllable dog names with meanings.
Bach – Like the famous composer.
Beau – handsome
Bo – strong, fast
Dax – leader
Earl – warrior
Ed – protector
Fran – free
Glen – valley
Jace – moon
Joon – king
Judd – praised
Jude – Hey Jude, the Beatles song.
Keane – handsome and tall
Keefe – cherished
Klauss – leader in victory
Leif – beloved descendant
Lev – lion
Liv – olive tree
Mei – beautiful
Midge – small
Nash – adventurer
Nell – light
Paz – peace
Rei – lovely
Rhett – stream
Rue – friend
Shaw – wolf
Shay – gift
Sven – young
Taj – crown
Finding More Names
Hopefully, you've found some great name ideas for your dog, but if you'd like even more options to choose from we recommend saving your favorites to your list and then looking into some of these other options:
Then take a look at your saved names and say them out loud. From there narrow the list down and run them past your friends and family. Finally, follow our guide to teach your dog its name.