We want our pets to be safe and happy. But allowing your dog to explore your property and other off-leash areas unleashed can increase his risk of harm. Balancing "safe" and "happy" gets easier when you add a good GPS dog tracker to your pet's collar!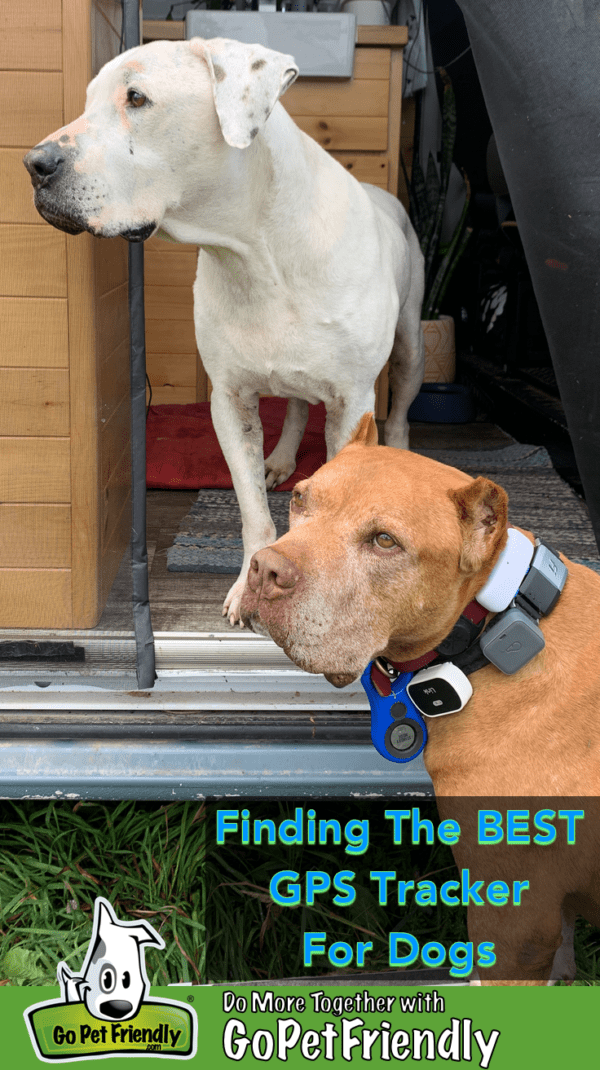 GPS dog trackers are becoming increasingly popular. But how effective are they? And does your dog really need one? If so, which are the best GPS dog trackers to consider for your furry pal?
We have answers for all these questions and more! To help you sift through the options, we tested six popular location tracking devices you can use for your dogs.
How Well Do Dog GPS Trackers Work?
Most dog GPS and activity trackers work through a combination of Wi-Fi, Bluetooth, cellular, and satellite signals. Some even work off radio frequencies. But even with all these signal options, the best GPS dog trackers are still not perfect and might not work in all instances.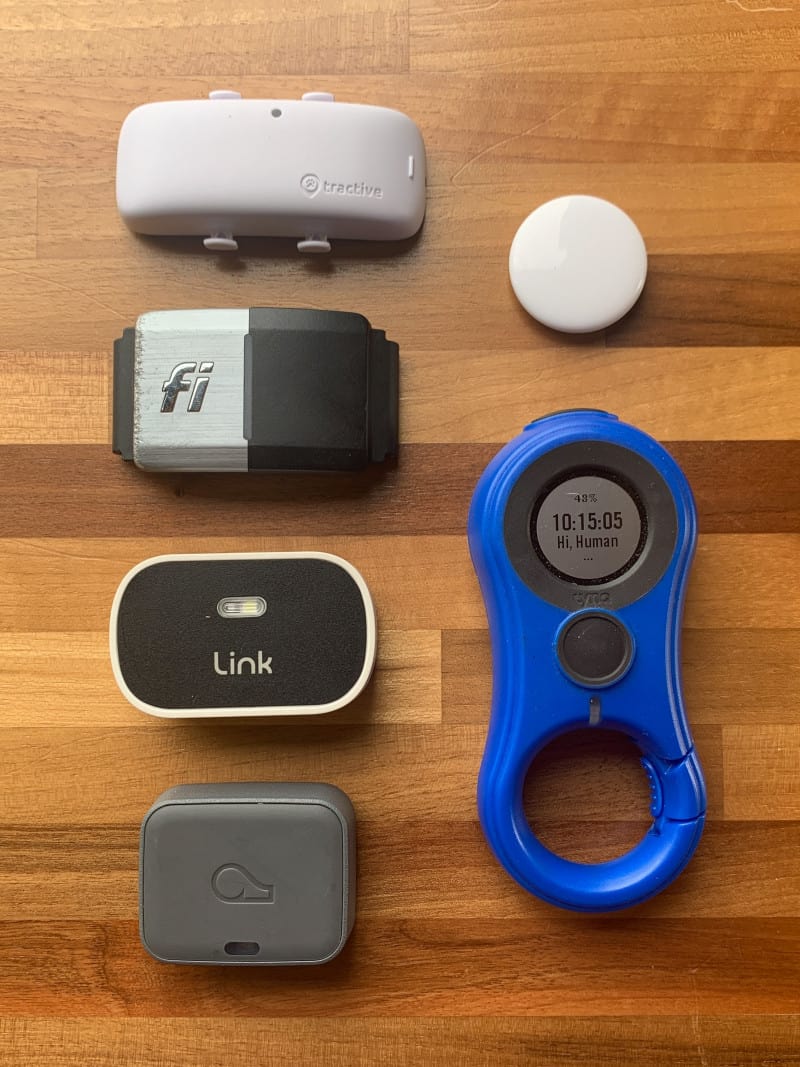 The performance of a location tracker is primarily determined by signal quality. Poor signal can lead to delayed location updates or false location updates (meaning it could indicate your pet is somewhere it's not). A variety of factors can influence this:
Cloud cover
Thick tree canopies
Tall buildings
Being inside a vehicle or building
For example, in this map, you can see a general trail of where Hercules traveled. During this adventure, the Fi GPS tracking app was not always able to get a signal for his precise location when he was in the woods. He followed his nose and wandered around a lot more than these straight lines indicate. But it is still extremely helpful to know the general area your dog is in if they're lost!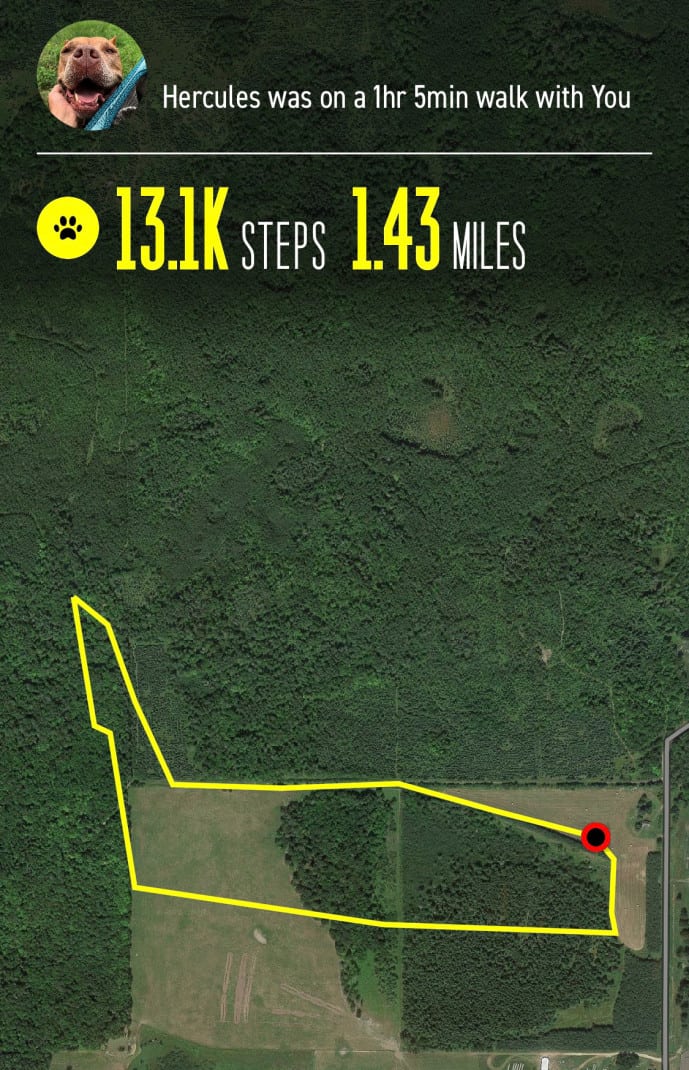 Another factor to consider is cell phone reception. The cellular networks these devices use are the same ones your phone uses, such as the AT&T or Verizon LTE networks. However, it doesn't matter which carrier you use for your phone. The tracking devices connect to these networks directly (e.g., Fi uses LTE-M via the AT&T network), and that is what the subscription fees cover.
What does matter is how well the tracker can access its designated signal in your area? If you have a device that works via the Verizon network, but you can't get a good Verizon signal near you, the tracker might not work as well as you'd hoped!
Do You Need A GPS & Activity Tracker For Your Dog?
I was that pet owner who thought my dog would never get lost. Then last summer, in the time it took me to go into our campervan, pour a cup of coffee, and come back out, Hercules had disappeared. A nightmare for any dog owner! It took five people searching almost three hours before we found him.
That experience fueled my interest in getting a GPS device. But a potentially lost dog (or even dog theft) isn't the only reason to get a location tracker. Here are five reasons you might want a GPS pet tracker for your pup:
1. Safety And Prevention
Not only do these tracking devices help you find your pet if they get lost or wander too far, but they also help you prevent that from happening.
Many tracking device apps let you set up safe/unsafe zones. For example, I get a notification from the Tractive GPS device when Cool Whip leaves our home/safe zone (green circle) or enters the alert zone I set up around the road (red rectangle). That is my cue to call her back closer to the campervan before she wanders into a dangerous area.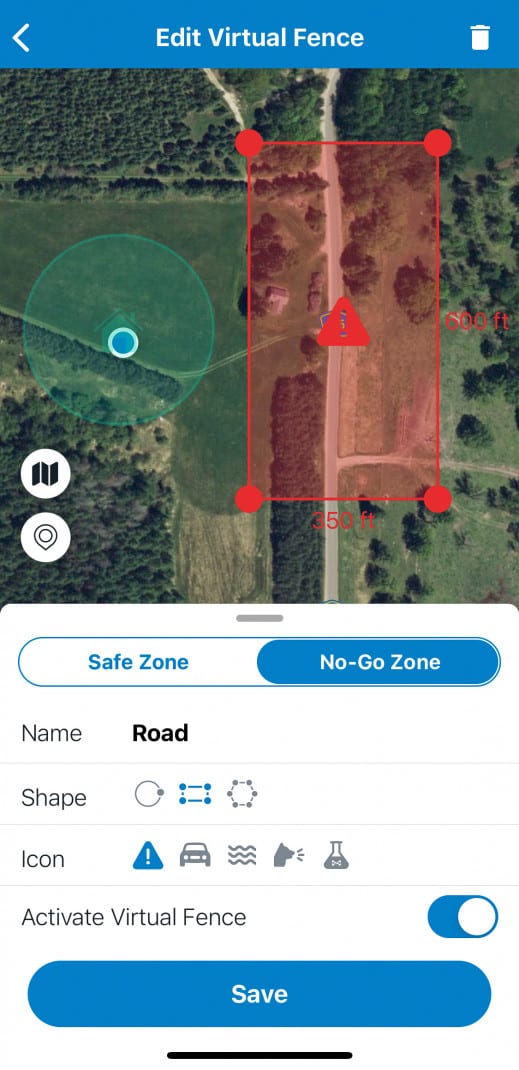 2. Monitor Your Dog Walker Or Pet Sitter
Obviously, you trust this person if you've hired them to look after your beloved pet. But it's still comforting to know when and where they're taking your dog for a walk.
Most GPS dog tracker apps will show you exactly how long and where your dog was active. Some trackers also let you share your dog's location with other dog walkers or family members. This way, they can help find your lost pup if you're not in the area.
3. You Hike With Your Dog
Yes, a pet GPS tracker can help you find your dog if they get lost during a hike. But they're also a great way to record your adventure! You'll be able to see exactly where you hiked, the distance you hiked, and how long it took you.
With some dog tracker apps, you can even take pictures along the way that save with the event. What a great memory to look back on!
4. You Want To Log Your Dog's Activity Level
Minutes active, distance traveled, time spent napping—all of these contribute to your dog's overall activity level. Many GPS and activity trackers help keep an eye on your dog if you're not there to watch them 24/7.
You'll know if they're running around the backyard all day while you're at work, or if they take an eight-hour nap. This can help you figure out how much to feed or walk them to maintain a healthy weight. Plus, when you know more about your dog's daily habits, it can help you identify possible illnesses.
5. It Is Fun!
Several of the tracking apps offer social features, such as leaderboards showing how your dog's activity level ranks against other dogs with the same device. These ranking categories typically include all device users, friends within the app, your dog's breed, and your state, city, or local area. It might even lead to new friendships!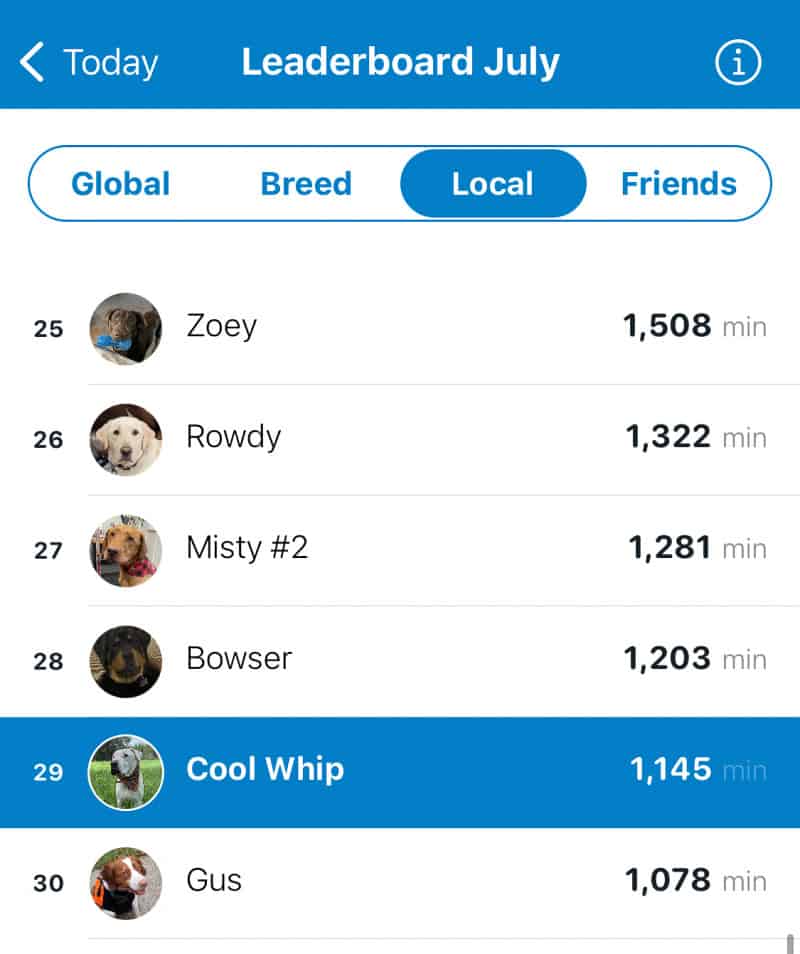 What Is the Best GPS Dog Tracker?
So, you understand how GPS trackers work and you like the potential benefits of a tracking device. But with a variety of pet tracking devices on the market, how do pet parents pick the right one for their furry companion?
We have you covered! These are six of the best tracking devices for dogs. And we tested each one to see how well they work in the real world.
Fi Smart Collar
Link My Pet
LynQ Smart Compass
Tractive GPS
Whistle Health & GPS
Apple AirTag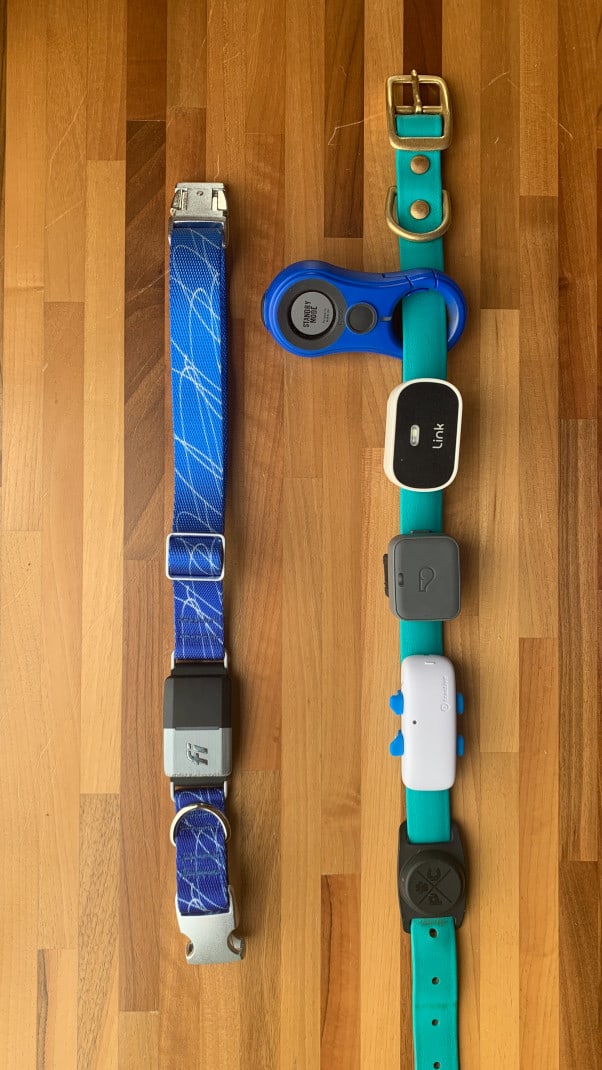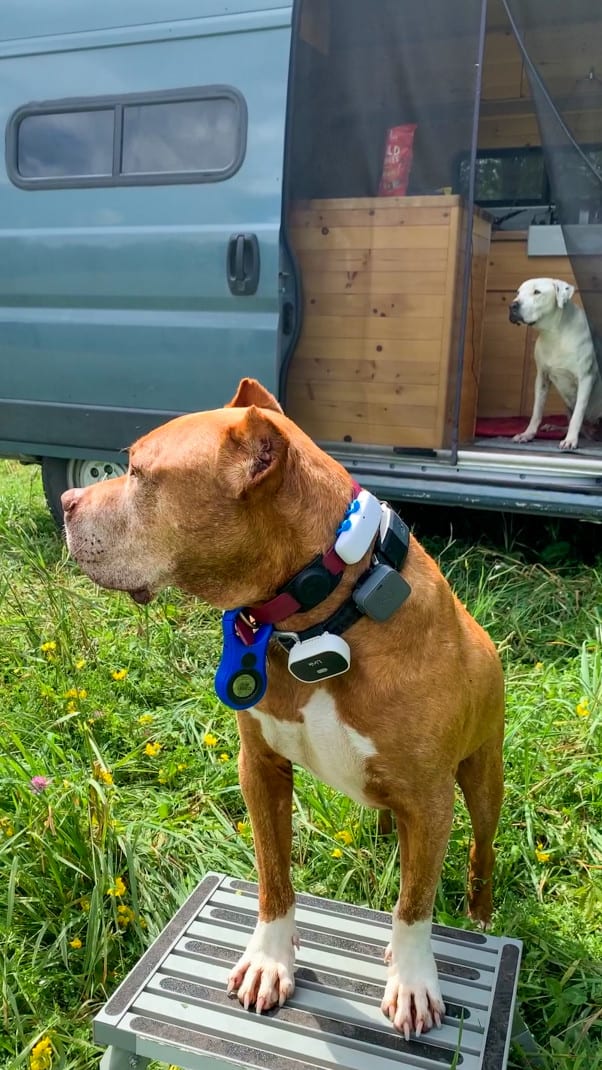 Cool Whip and Hercules each wore three devices for several weeks in northern Minnesota. The landscape there is a mix of open fields and thick forests. We got a feel for how each device would perform in optimal signal locations (open fields with a clear view of the sky) and potentially difficult areas (forests with heavy tree canopies).
Read on for a breakdown of the essential details of each tracking device plus some of our favorite features.
"GoPetFriendly may earn commission or revenue on some items through the links below."
The Fi smart collar is the slimmest GPS tracker for dogs and costs around $149, plus the subscription fee. The actual tracking device sits in line with the collar (versus on top of it). It's a sleek design that is hardly noticeable as anything more than a regular collar.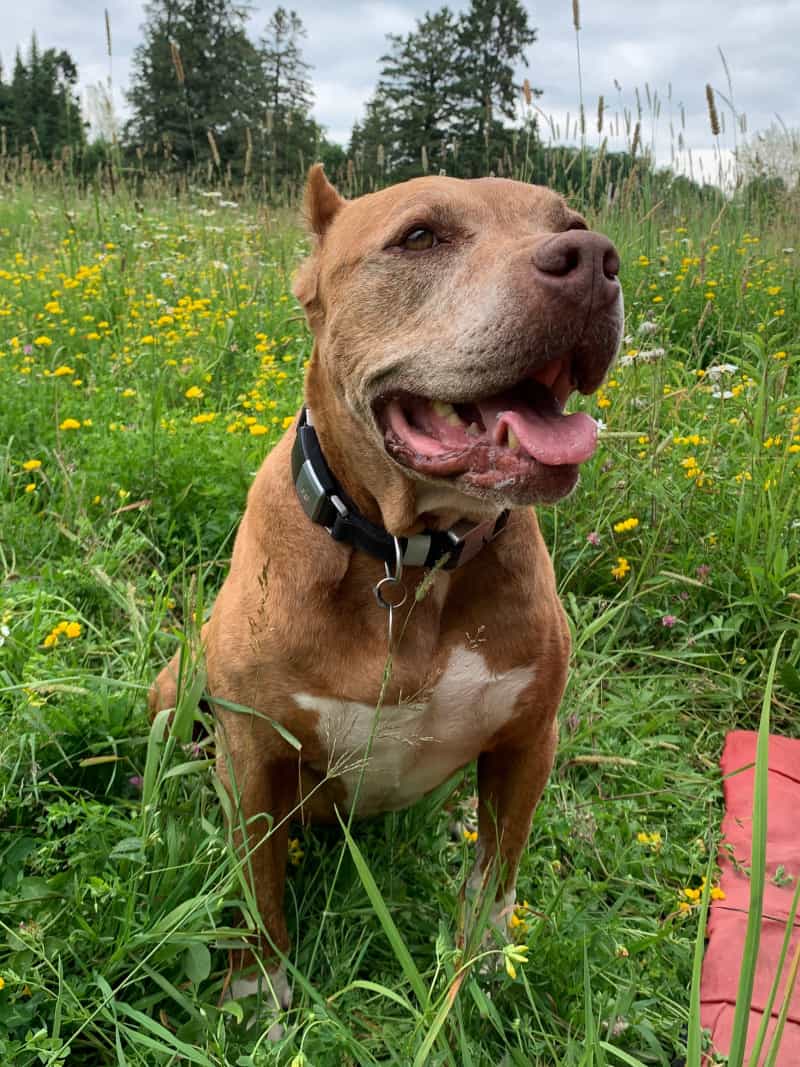 The Fi dog tracker maps your dog's location and their steps. Within the app, you can set step goals for your pup and see a breakdown of steps by day, week, and month.
If you turn on the social feature, you can also see how your pet ranks against all other Fi users as well as by your dog's breed, state, city, and age group. You can even follow his friends and make new friends within the app.
Attachment: This tracker requires a Fi-compatible dog collar. One collar (your choice of color) comes with your tracking device. You can purchase additional collars through other makers listed on the Fi website. This device is for pets that weigh 10 pounds or more.
Subscription: The Fi smart collar requires a subscription for full access to its tracking capabilities. You can set up billing for one year ($99), two years ($186), or three years ($248). The device works without a subscription, but you cannot track your dog's location if they go beyond the range of your smartphone, base station, or Wi-Fi. Fi uses AT&T's LTE-M cellular network.
What we love about Fi:
Fantastic battery life
A very low-profile device; looks like a regular dog collar
Social—it's fun tracking steps with the community rankings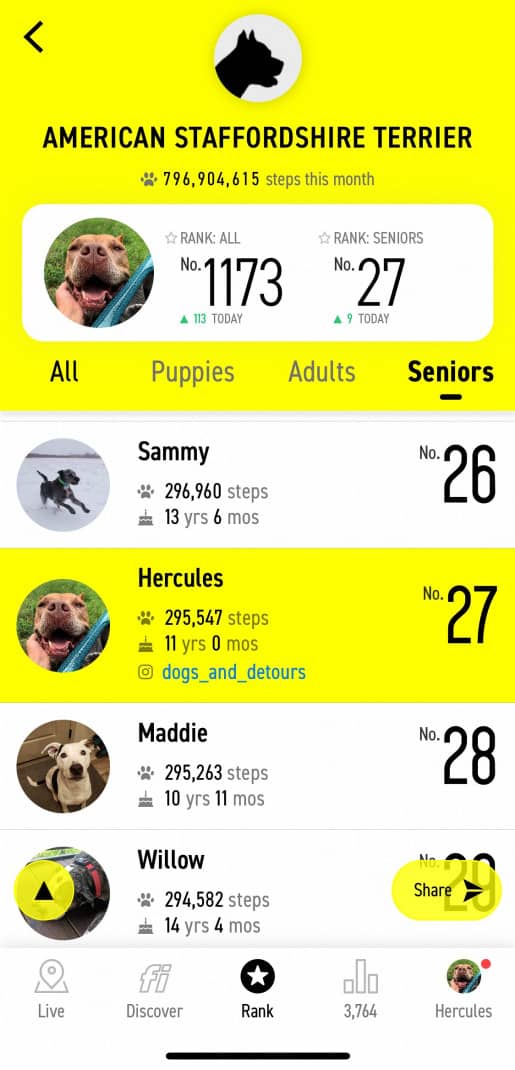 Hercules wore the Fi tracker, and I love that it was hard to notice there was a device on him. The location tracking doesn't update as frequently as the other trackers, which preserves battery life. It worked great in the fields but had trouble locating Hercules in the woods.
The app is the shining star though. The way Fi designed the step-ranking platform is so fun—every day I checked to see how many places Herc moved up or down in each of his categories.
Link is the option for dog parents who want everything bundled into one device. For around $135 plus subscription, it's a GPS dog tracker, activity monitor, training device, records keeper, and more.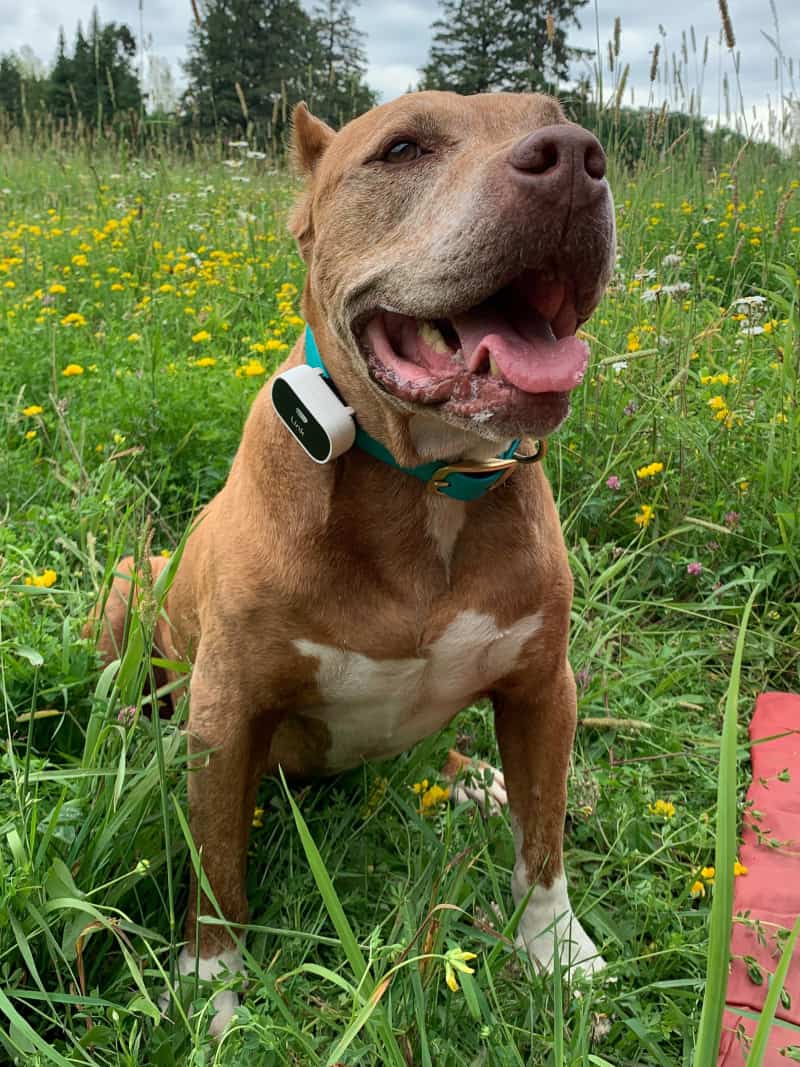 Link's activity monitoring includes minutes active, calories, steps, and miles. Your dog's time spent active is categorized as running or walking, so you get a thorough picture of their exercise. The training features include tone and vibrate functions to help reinforce positive behavior.
Within the app is a section to upload vet records so they're always at-hand, set temperature alerts, create activity goals, and more. You also have access to Link Vet, a symptom checker to help you decode your pet's health and behavior.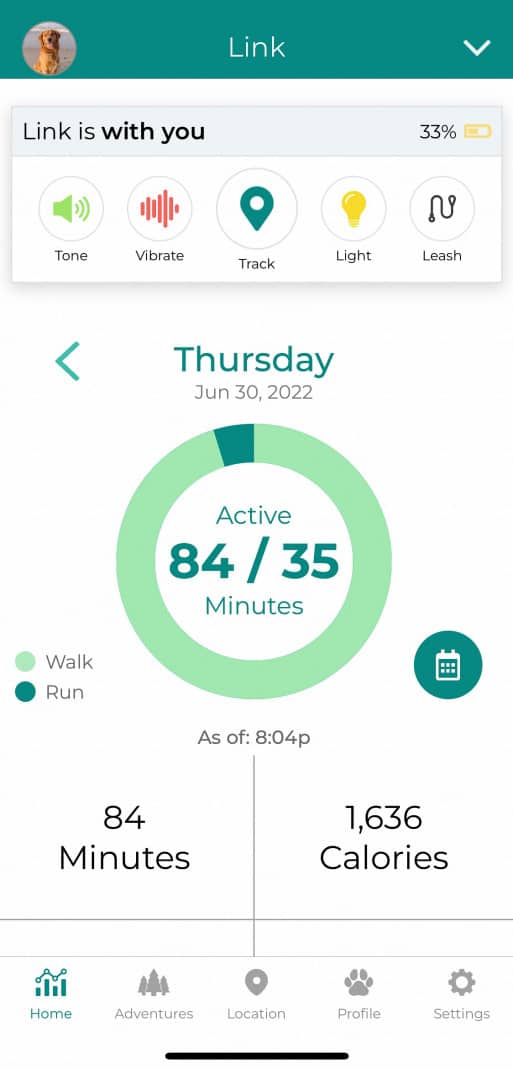 Attachment: Link attaches to your dog's existing collar via an elastic strap or plastic clip. The Link device is white and black, but you can apply a variety of wraps whenever you want a new color.
Subscription: Using the Link dog tracker requires a subscription. You can set up your billing cycle as one month ($12.99), one year ($99), two years ($186), or three years ($248). Link uses Verizon's cellular network.
What we love about Link My Pet:
The option to track your adventures and include pictures
Training controls (tone and vibrate)
One-stop-shop GPS tracker, activity monitor, and health support
I really like how many features come with the Link app. And their customer service reps are incredibly helpful if you have questions or just want to learn how to maximize your device. Also, you can get a Link Puck, which is like a Bluetooth beacon that helps strengthen the signal and preserve battery life.
Hercules wore this tracker and it delivered the fewest false location updates. Lots of wins with Link. It's the tracker that Myles from GoPetFriendly wears!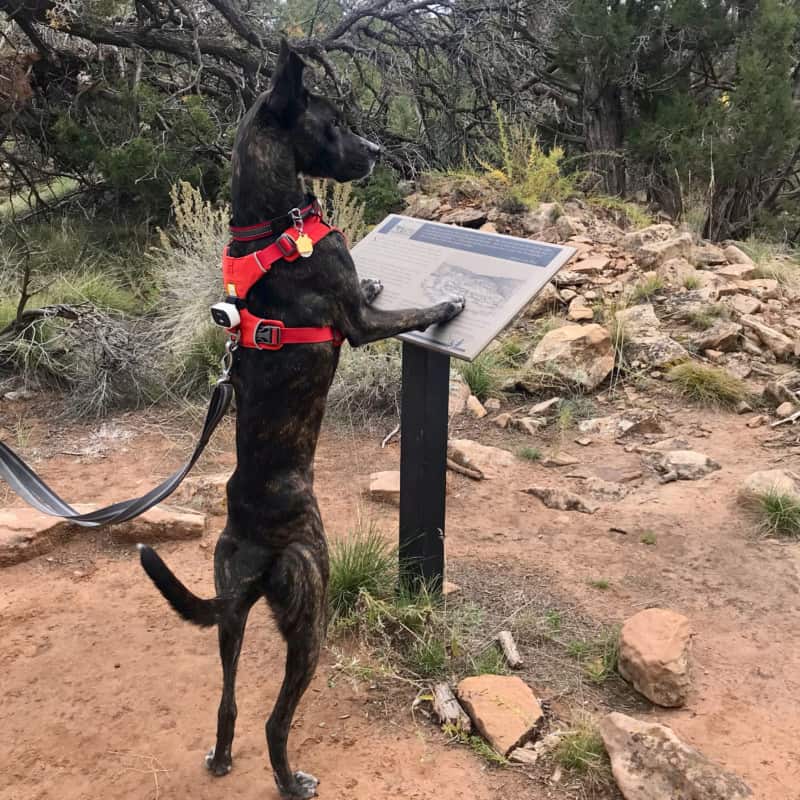 Lynq Smart Compass — $409 (Two Devices)
The Lynq Smart Compass is a little different from the other trackers. It is strictly a location tracking device, with no activity monitoring. So, your dog won't wear the Smart Compass unless you're on an adventure.
And rather than communicating with your phone using a cellular network, you get two (or more) devices that pair with each other (like GPS walkie talkies). So if you explore places with little or no cellular signal, this is a great option!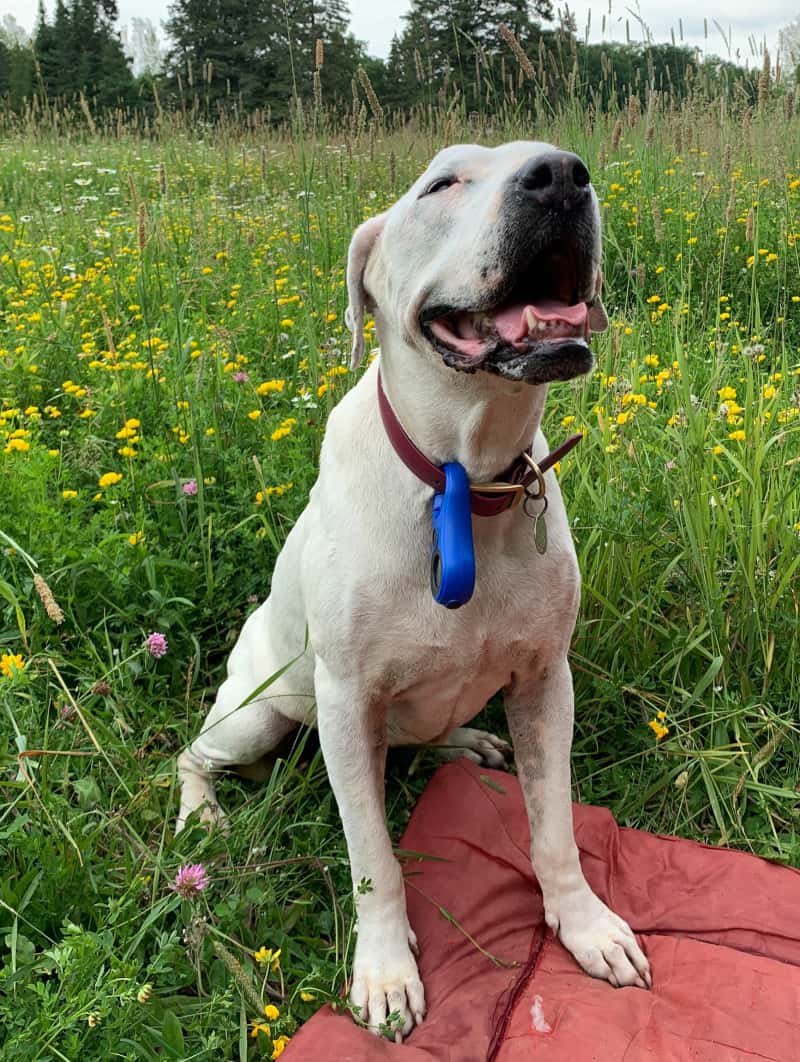 When you're ready to go on an off-leash hike or to let your dog roam your property, turn on the Smart Compasses. Then wait for the two units to connect to GPS and pair together. Once they've found each other and a satellite, you can clip one to your dog's collar and the other device stays with you.
On the screen you'll see your dog's distance from you. Along the outer edge of the screen is a marker that indicates your dog's direction from you; and it gets larger as you get closer.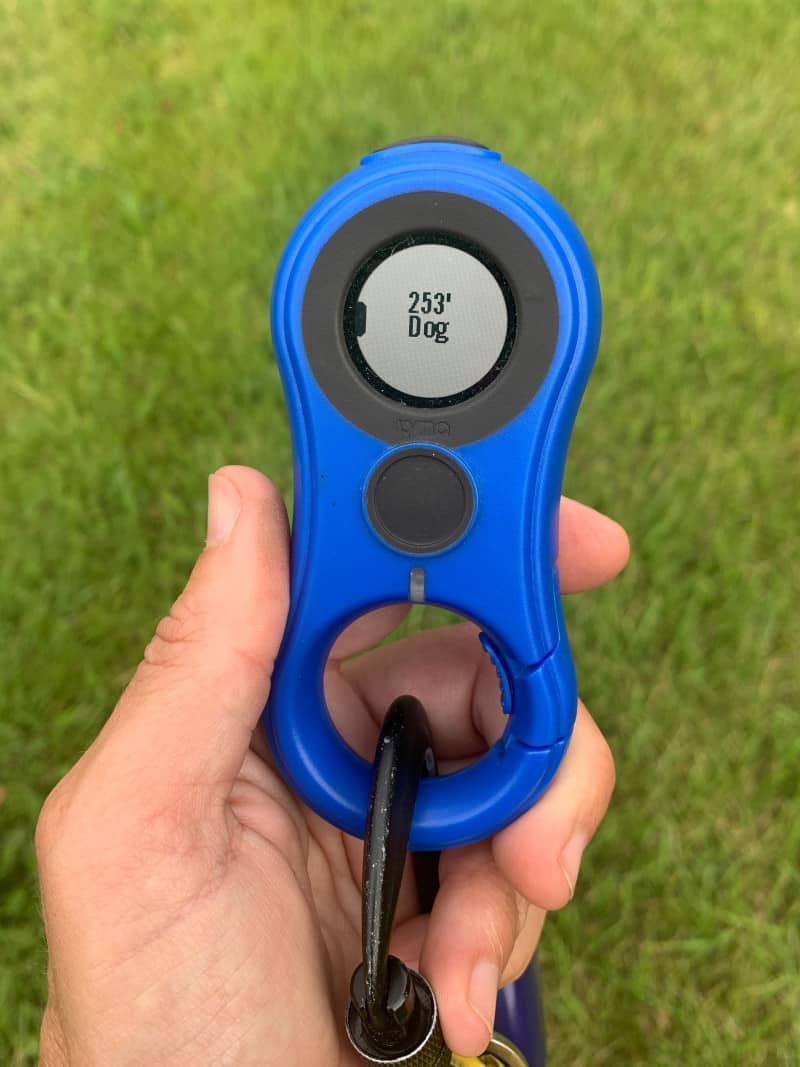 Attachment: One end of the Smart Compass is a carabiner-style attachment. You can clip one device directly to your dog's collar, harness, or backpack. The other device can clip to your backpack, belt, etc.
Subscription: The Lynq Smart Compass does not require a subscription.
What we love about Lynq:
No cellular signal required
No subscription fee
Very simple to use
Useful for a variety of adventures with or without pets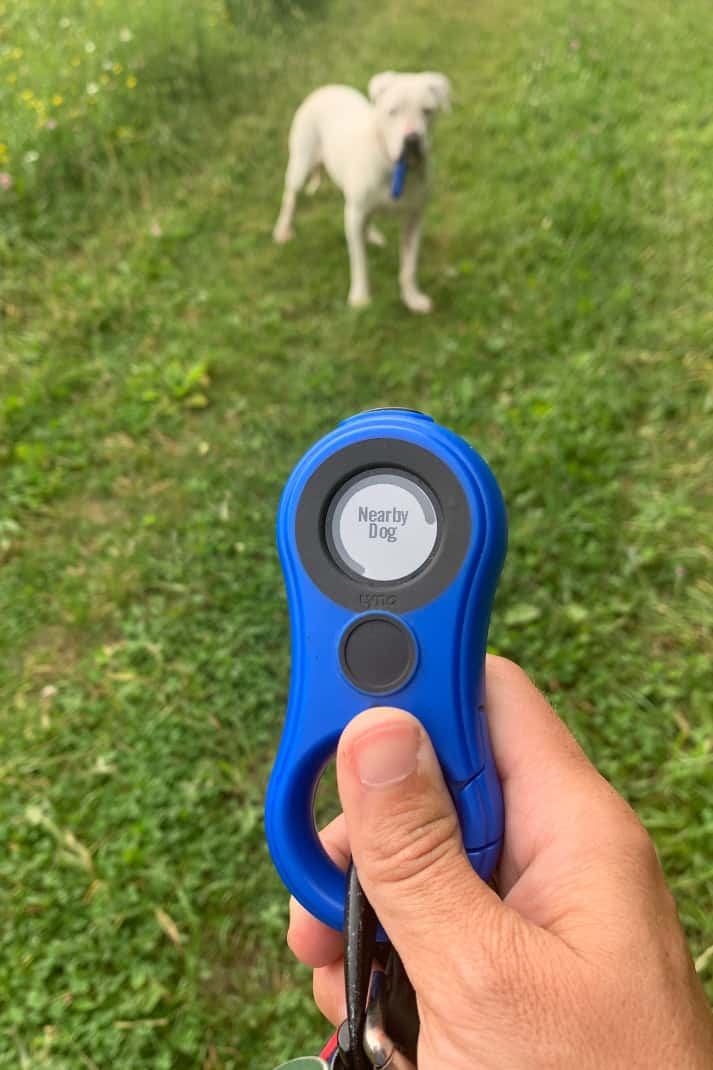 While the Smart Compass is the largest device we tested, I like how easy it was to track Cool Whip's location. I also like that it's not something you have to leave on your dog's collar 24/7. Those devices are always active and need to be recharged every few days.
If you want something simple and you're not interested in health or activity tracking, definitely consider a Smart Compass.
At a cost of around $50 plus subscription, the Tractive GPS tracker is an impressive option for dog owners. The Live tracking option updates the location every 2-3 seconds—leaving hardly any time to panic when you're trying to figure out where your dog is wandering.
The activity tracking includes minutes active, calories burned, sleep time, and calm time. Tractive also has a leaderboard where you can see how you rank by minutes active locally, globally, and amongst your dog's breed and friends.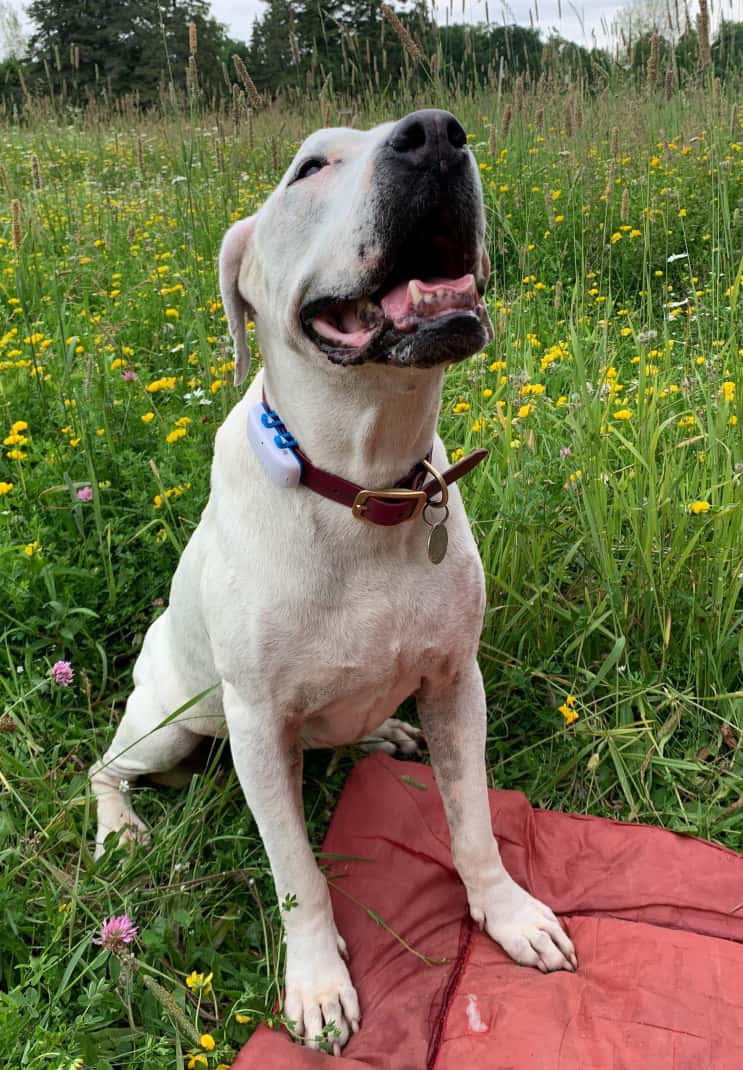 A feature I didn't find with any other devices is Tractive Care. It's an insurance option for your device. You can claim a free replacement if your tracker is damaged, lost, or stolen.
Tractive also offers a GPS cat tracker, for cats who love adventures and small dogs. Most dog GPS trackers fit dogs who are 5 pounds or more, so it can be hard to find one that fits the smaller dog breeds.
Attachment: The Tractive device attaches to your dog's existing collar (up to 1 inch wide). This device is for dogs 8.8 pounds or more.
Subscription: The Tractive GPS tracker requires a subscription plan. Billing for the Basic plan is monthly ($12), one year ($84), or two years ($120), which includes GPS tracking and Live tracking.
Billing for the Premium plan is one year ($96), two years ($144), or five years ($300), and includes GPS and Live tracking, family sharing, 365 days of location history, worldwide coverage, and more. Tractive uses AT&T's cellular network.
What we love about Tractive:
Location tracking is very responsive in Live mode
Easy to set up a variety of safe or alert zones
Free replacement device with Tractive Care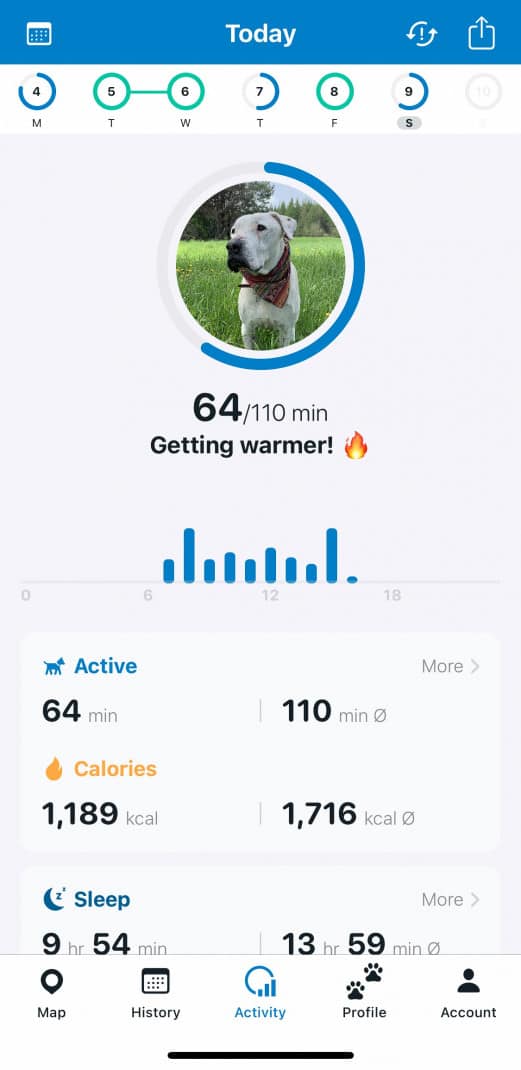 Cool Whip got to wear the Tractive GPS device because she is the dog most likely to lose something. (I triple knot her bandanas, and they still come untied and fall off!). The Tractive Care is exactly the type of service I want for a dog like her.
Also, the option for safe and alert zones was incredibly helpful. They could be set up anywhere, such as along the road that I didn't want her near.
Whistle Health & GPS — Check Amazon Price + Subscription
There are a few different devices available from Whistle. One only tracks your pet's health and activity and two offer location and activity monitoring:
Whistle – Health: Tracks your dog's activity (minutes active, distance, calories, rest) and health such as licking, sleeping, drinking, distance traveled, and minutes active. This device costs around $50, but has no GPS location tracking.
Whistle – Health + GPS: Tracks health, activity, and location for around $150 plus subscription costs. You can see exactly where your pet is and get notifications if they leave any safe zone you create. This is the device we tested.
Whistle – Health + GPS + Fitness: For around $199 plus subscription, this device tracks health, activity, and location. It attaches to its own collar and has two interchangeable batteries. So there is no need to remove the device to charge it—just swap batteries!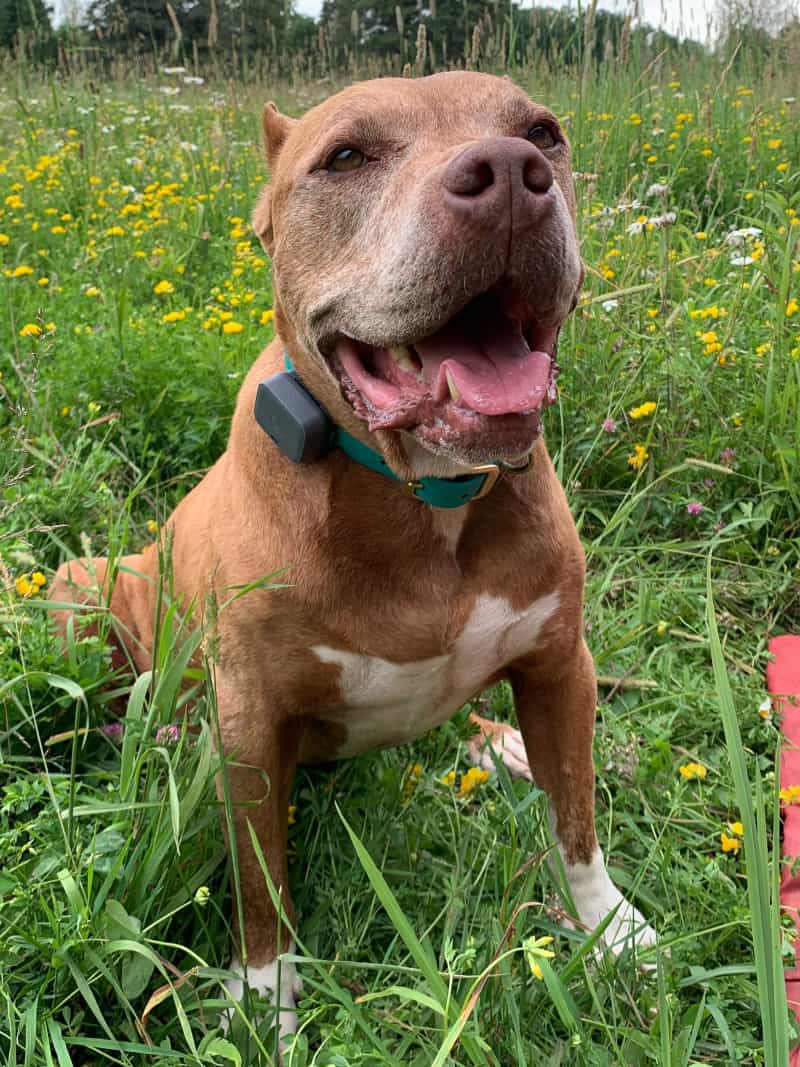 Attachment: The Health & GPS tracker can attach to any collar. The Health & GPS+ device requires a compatible collar (one comes with the device; additional versions are available for purchase). Both devices are for dogs weighing 25 pounds or more.
Subscription: Whistle tracking devices require a subscription. You can set up billing for monthly ($12.99), one year ($99), or two years ($192). Whistle uses AT&T's cellular network.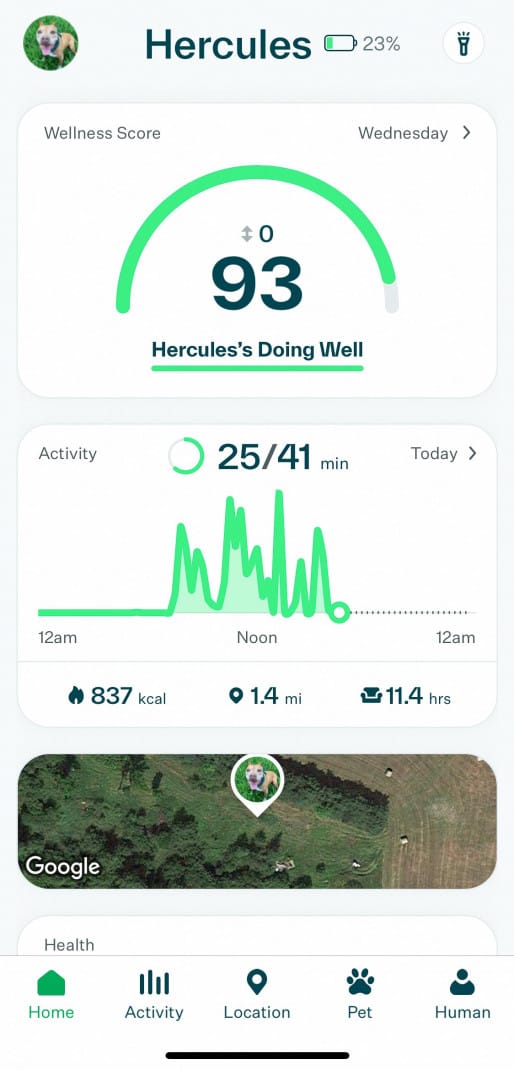 What we love about Whistle:
Detailed location tracking
Fast updates in Find My Pet mode
Activity and wellness monitoring
Hercules wore the Whistle Health & GPS device (formerly called the Whistle Go Explore). The Whistle gave me the most false notifications when we were inside the van (vehicles can block signals). However, when we were outside, it was the most accurate device, which is why it is one of the most popular GPS dog trackers.
When Herc snuck away one afternoon (while wearing three trackers), the Whistle tracker gave the most frequent and precise location updates. Each of the orange dots shows where the app updated his location. There were hardly any delays, even while he was deep in the woods.
We drove a four-wheeler down an off-road trail to collect him, and he popped out from the woods exactly where the app was showing his location. It was like watching your travel progress on Google Maps.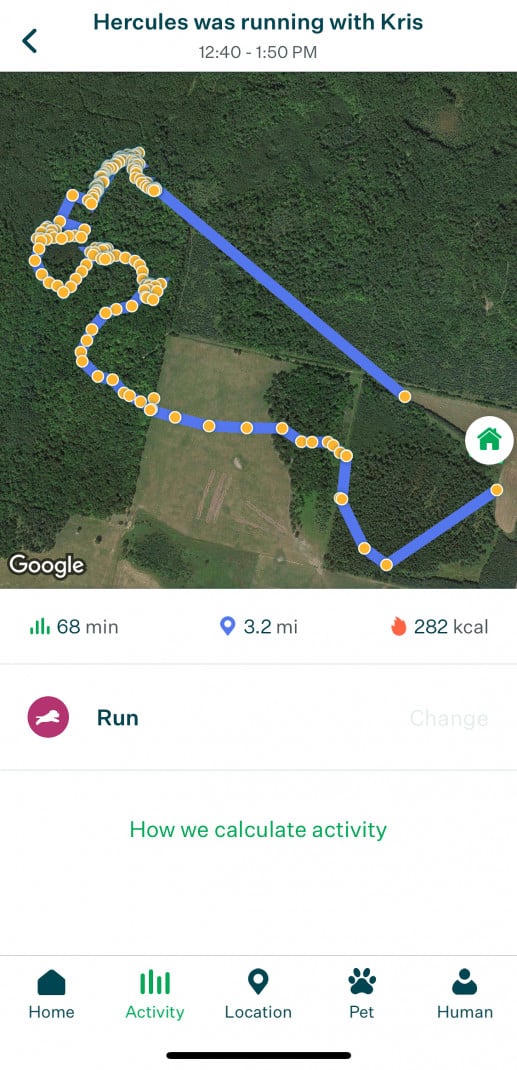 Tough the Apple AirTag is not a GPS tracker, it's worth mentioning in this post. This device is the smallest and, at a cost of $29, the least expensive way to track your dog.
It is a Bluetooth tracker, which means it operates on Bluetooth signals only. When a compatible phone or device using a Bluetooth signal passes nearby, the location updates.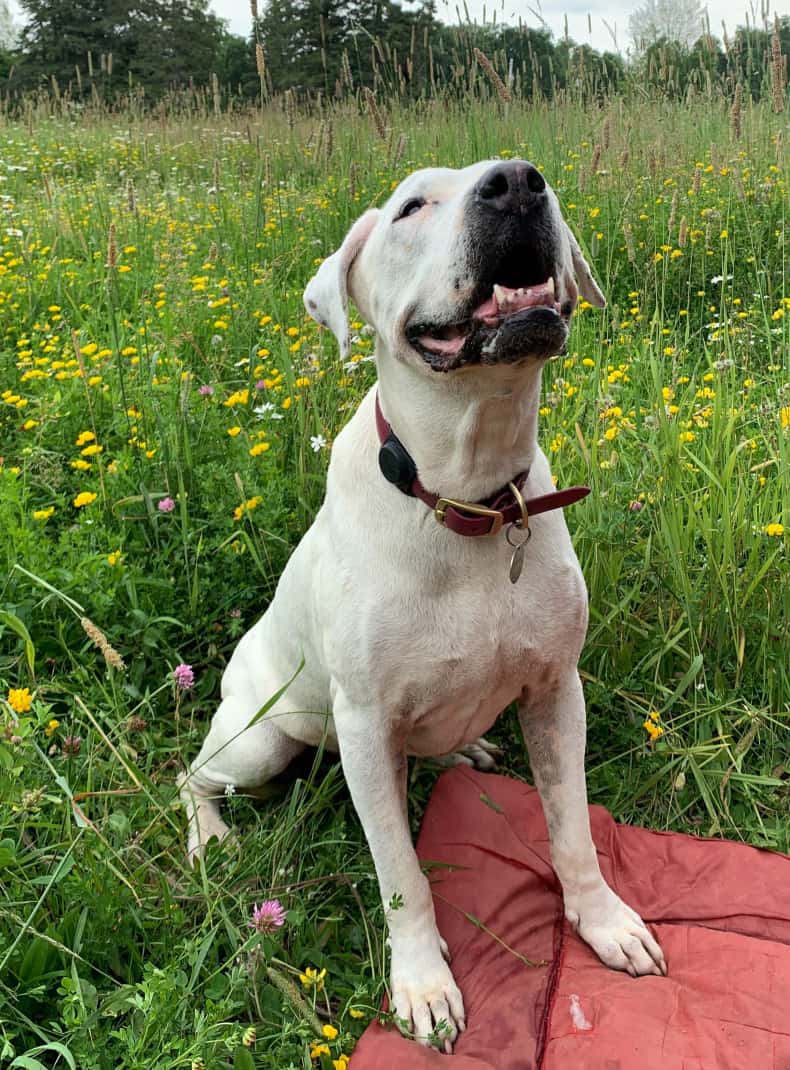 The AirTag is not the best pet tracker for sparsely populated areas because there are so few compatible devices to pick up the Bluetooth signal. However, if you worry about your dog going on the lam in the city, this is an excellent option.
A big plus for the AirTag (the small white disc in the picture of charging devices) is that there is no battery charging required. The battery is designed to last one year or more. When the battery dies, you purchase a new AirTag.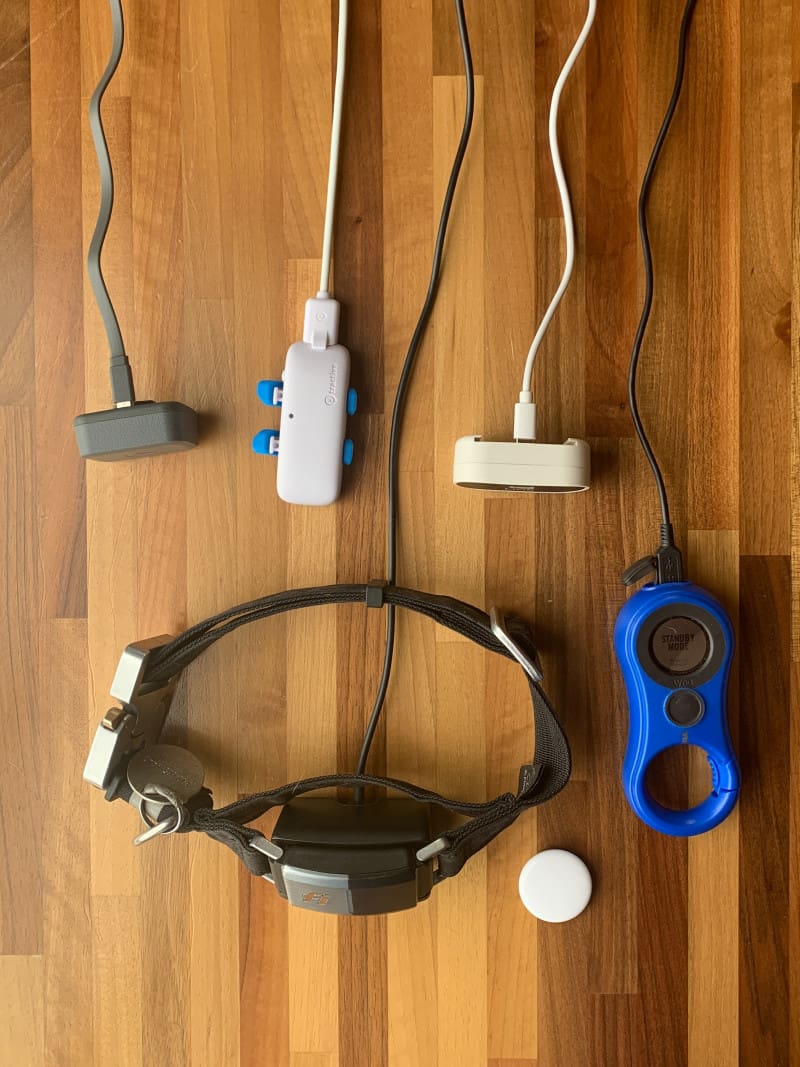 Attachment: Attaches to your dog's existing collar. You must purchase your own attachment system such as a silicone cover that slides onto your dog's collar or a collar specially designed for the AirTag.
Subscription: No subscription required.
What we love about Apple AirTag:
The least expensive option available
No subscription or battery charging required
Small and easy to attach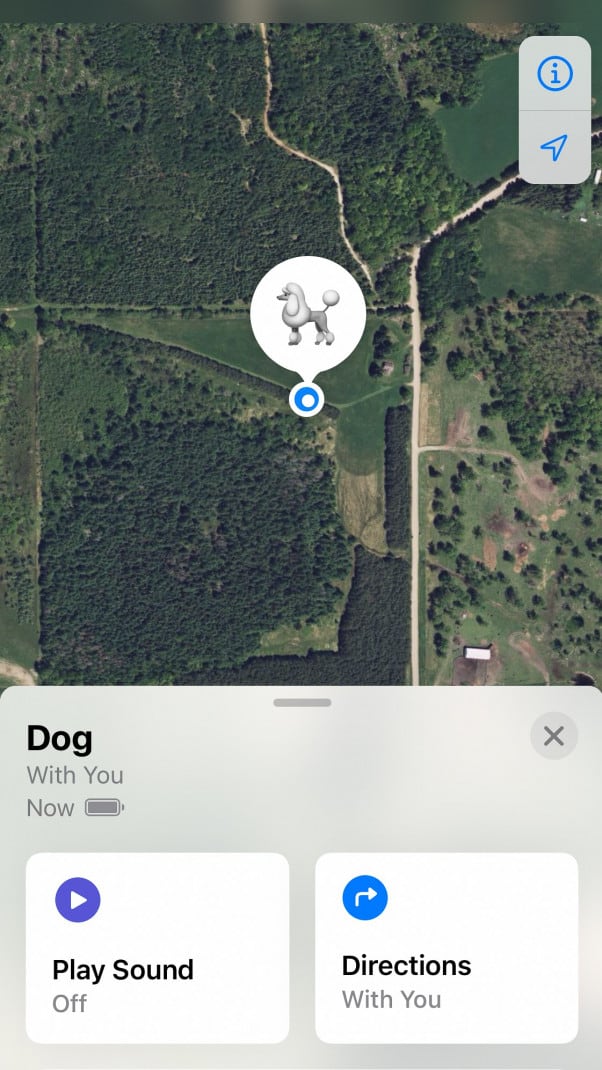 The AirTag is the smallest and lightest device we tested, and I hardly notice it on Cool Whip's collar. Because we spend most of our time in the wilderness away from populated areas, the AirTag is not an effective everyday option for us.
However, it is so small and inexpensive that I think it's worth having as a backup on the dogs' collars for when we visit more populated areas.
The Best GPS Dog Trackers For Your Pet
Each tracking collar or device has slightly different features and benefits, just as each dog has different needs. The best GPS dog collar ultimately depends on what you want for your pet.
Fi Smart Collar is sleek and maximizes battery life.
Link's app hosts a wealth of data and options.
Lynq is perfect for adventures where there is no cellular service.
Tractive is great for setting up virtual boundaries and alerts.
Whistle is fast and precise with its mapping.
AirTags are small, inexpensive, and good for city life.
Visit our Amazon store to learn about more products we rely on to make traveling with pets easier, safer, and more fun!
Do you already have a tracking device for your pet? Leave us a comment to let us know what you like about it and how it's worked for you!
Amazon Affiliate Disclosure: GoPetFriendly.com LLC is a participant in the Amazon Services LLC Associates Program, an affiliate advertising program designed to provide
a means for website owners to earn advertising fees by advertising and linking to amazon.com, audible.com, and any other website that may be affiliated with Amazon
Service LLC Associates Program. As an Amazon Associate, the owner of this site earns a commission from qualifying purchases.
(Visited 25 times, 1 visits today)