Published:
Last updated:
by Kyle J. Larson

You'll∂≈å love these music-inspired dog names if you love a good tune. There is no better way to infuse your puppy with an air of coolness than using a name from your favorite artist or band. We've gathered the best names across all music genres to help you find a great option.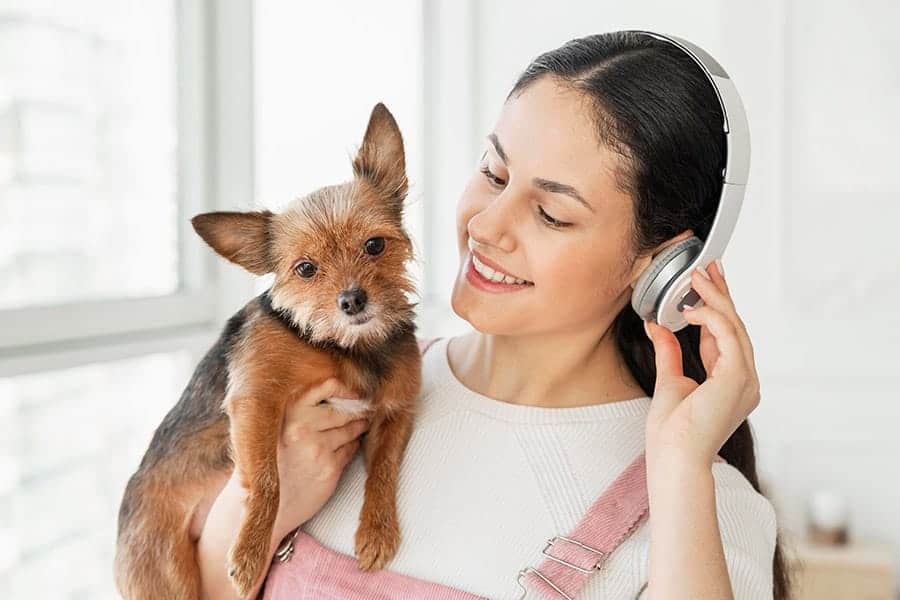 Rocker Names for Dogs
These name options come from some of the most famous rockstars and bands. These rockstars exude energy and charisma just like your pup, and there's no better name to fit them perfectly!
Axl – Axl Rose of Guns and Roses
Bono – of U2
Bowie – David Bowie
Chester – Chester Bennington of Linkin Park
Cobain – Kurt Cobain of Nirvana
Cooper – Alice Cooper
Elvis – Elvis Presley
Floyd – Pink Floyd
Freddie – Freddie Mercury of Queen
Hendrix – Jimi Hendrix
Jagger – Mick Jagger of the Rolling Stones
Joplin – Janis Joplin
Jovi – Bon Jovi
Motley – Motley Crew
Ozzy – Ozzy Osbourne
Santana
Sting
Zappa – Frank Zappa
Zeplin – Led Zeppelin
Pop, Folk, and More
Pop artists are widely known for creating songs that stick in your head to the point that they seem to capture a moment in time forever. These artists might make a perfect name for your new pup.
Adele
Beyonce
Billie – Billie Eilish or Billie Holiday
Blondie
Bruno – Bruno Mars
Buddy – Buddy Holly
Cher
Dido
Dylan – Bob Dylan
Elton – Elton John
Franz – Franz Ferdinand
Gaga – Lady Gaga
Harry – Harry Styles
Huey – Huey Lewis
Jackson – Michael Jackson or Janet Jackson
Jewel
Joni – Joni Mitchell
Jude – Hey Jude, a Beatles song
Lennon – John Lennon of The Beatles
Lenny – Lenny Kravitz
Lizzo
Madonna
Miley – Miley Cyrus
Prince
Ringo – Ringo Starr of The Beatles
Stevie – Stevie Nicks of Fleetwood Mac
Taylor – Taylor Swift
Country Music-Inspired Dog Names
These country music stars have a twang and some soul to their songs. If you like these ideas, you might also want to check out our country dog names.
Cash – Johnny Cash
Charlie – Charlie Daniels
Chesney – Kenny Chesney
Denver – John Denver
Dierks – Dierks Bentley
Dolly – Dolly Parton
Garth – Garth Brooks
Hank – Hank Williams
Merle – Merle Haggard
Rascal – Rascal Flatts
Reba – Reba McEntire
Vince – Vince Gill
Willie – Willie Nelson
Rap Names
Hip-hop has wholly captured the culture in music, fashion, and language. These rap names will give your dog a cutting-edge flare. For even more names like this, try our rapper dog names list.
Andre – Andre 3000 of Outkast
Boo – Gangsta Boo
Bronson – Action Bronson
Cardi – Cardi B
Chance – Chance the Rapper
Cole – J. Cole
Diddy – Puff Daddy
Dre – Dr. Dre
Eazy – Eazy-E
Flash – Grandmaster Flash
Griff – Professor Griff
Gucci – Gucci Mane
Harlow – Jack Harlow
Kane – Big Daddy Kane
Kendrick – Kendrick Lamar
Kodak – Kodak Black
Mac – Mac Miller
Malone – Post Malone
Missy – Missy Elliot
Snoop – Snoop Dogg
Wiz – Wiz Khalifa
E.D.M. Names
Electronic music has a tight-knit following with tons of sub-genres. Here are a few examples of artist names that might suit your puppy.
Aoki – Steve Aoki
Armin – Armin van Buuren
Diplo
Grime – RL Grime
Kygo
Major – Major Lazer
Marshmello
Nero
Porter – Porter Robinson
Slim – Fatboy Slim
Tiesto
Vegas – Dimitri Vegas
Zedd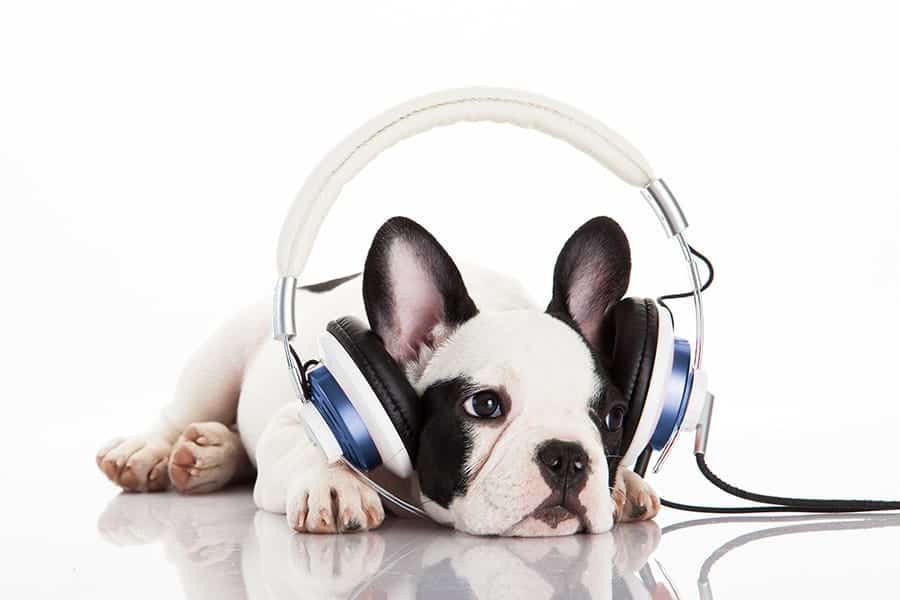 Punk Names
If you like to zig while others zag, these punk rock dog names are a great option. These feature some of the most classic punkers who defined the genre.
Clash – The Clash
Danzig – Glenn Danzig of The Misfits
Fugazi
Iggy – Iggy Pop
Ivy – Operation Ivy
Jello – Jello Biafra of the Dead Kennedys
Kennedy – The Dead Kennedys
Molly – Flogging Molly
Ramone – Joey Ramone of The Ramones
Reagan – Reagan Youth
Stooge – The Stooges
Sunny – Sunny Day Real Estate
Vandal – The Vandals
Metal & Hard Rock Names
These artists are known for their loud, wailing guitar riffs and headbanging anthems. Hopefully, they inspire some great ideas for naming your pup.
Ace – Ace Frehley of Kiss
Angus – Angus Young of AC/DC
Chino – Chino Moreno of Deftones
Eddie – Eddie Van Halen
Geezer – Geezer Butler of Black Sabbath
Ghost
Hetfield – James Hetfield of Metallica
Lars – Lars Ulrich of Metallica
Lemmy – of Motorhead
Lizzy – Thin Lizzy
Lynch – George Lynch of Dokken
Maiden – Iron Maiden
Rockett – Rikki Rockett of Poison
Serj – Serj Tankian of System of a Down
Vinnie – Vinnie Paul of Pantera
Zombie – Rob Zombie
Soul, Blues, Jazz, and R&B Names
You might try these influential, imaginative artists if you want music-inspired dog names with some class.
Aretha – Aretha Franklin
Bing – Bing Crosby
Charlie – Charlie Parker
Chick – Chick Corea
Clapton – Eric Clapton
Coltrane – John Coltrane
Duke – Duke Ellington
Etta – Etta James
Herbie – Herbie Hancock
King – B.B. King
Luther – Luther Vandross
Marvin – Marvin Gaye
Monk – Thelonious Monk
Nat – Nat King Cole
Sinatra – Frank Sinatra
Smokey – Smokey Robinson
Sonny – Sonny Rollins
Marley – Bob Marley
Miles – Miles Davis
Ziggy – Ziggy Marley
Classical Composer Names for Dogs
Here is a selection of famous composers whose names also work well for a dog.
Bach – Johan Sebastian Bach
Beethoven – Ludwig van Beethoven
Brahms – Johannes Brahms
Chopin – Frederic Chopin
Figaro – opera composed by Mozart
Igor – Igor Stavinsky
Ludwig – Ludwig van Beethoven
Mozart – Wolfgang Amadeus Mozart
Funny Music Names
Here are some ridiculous punny music names. If you love these ideas, look at our complete list of punny dog names.
50 Scent
A-leash-a Keys
Barky Wahlberg
Billie Howl-iday
Bone Jovi
Chews Barkley
Diggy Azalea
Doggy Cash
Doggy Parton
Elvis Pawsley
Enrique Doglasisas
Franz Fur-dinand
Julio Diglasias
Katy Pawry
LL Drool J
Notorious D.O.G.
Ozzy Pawsbourne
Sinead O'Collar
Snarls Barkley
Weezer
Other Musical Dog Names
Finally, we'll wrap up with some other musical terms that any singer or musician might love giving their furry friend.
Arietta – a short melody
Broadway – a favorite spot for musicals
Chord
Clef – a musical note symbol
Forte – strong
Harmony
Jazzy
Lyric
Major
Melody
Note
Octave
Poco – meaning a little
Rhythm
Song
Naming Your Dog
Once you've saved some names, say them out loud to help narrow down your final choice. Of course, you'll need to use the name in front of your friends and neighbors, so make sure it's easy to say and something you're not embarrassed to be shouting across the neighborhood.
Then when you've got the right name, try our guide to teaching your dog its name.