Nothing hurts worse than seeing our pets in pain. Whether its to protect against snow and ice or cacti and hot pavement, a good pair of dog boots could keep your pup's paws feeling great!
Either at home or on vacation, dog boots can make your dog more comfortable on walks and hikes. Perhaps rocky trails are taking a toll, or gravel roads are too much for sensitive paws. Unforgiving plants like cacti, goat heads, and sand burrs can quickly ruin your day. And the weather presents its own challenges with snow and hot pavement!
As dog lovers, we all suffer when we see that tender paw lift, knowing our pups are hurting. Whether it's related to terrain, weather, or protection from the local flora, dog boots can make the adventure more enjoyable.
To help you decide which is the best dog boot for your dog, Hercules and Cool Whip helped test five different options. We hope our research allow you to find the paw-fect protection.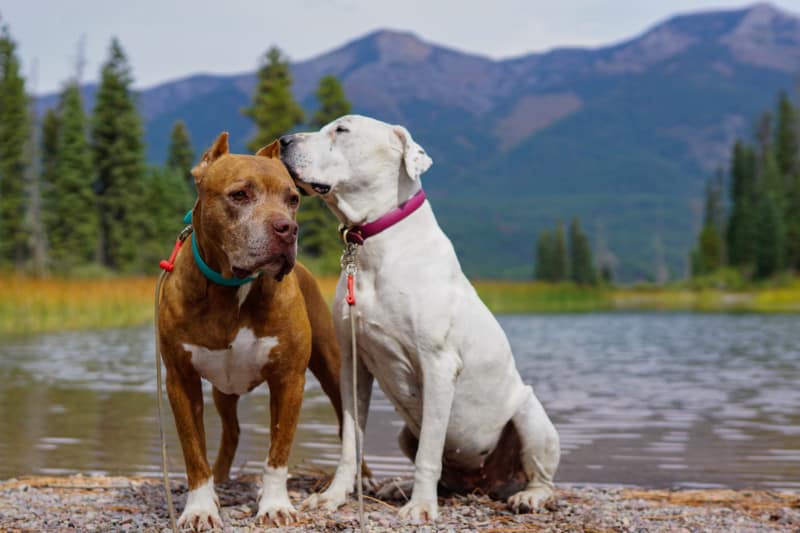 GoPetFriendly may earn commission or revenue on some items through the links below.
Visit our Amazon store to learn about more products we rely on to make traveling with pets easier, safer, and more fun!
Getting The Perfect Fit
Keep in mind that appropriate sizing is essential for selecting the right dog boots—too big and they will fall off, too small and they will be uncomfortable.
Once you've chosen the style of dog boot that best suits your adventures, you'll need to measure your dog's paws so you know which size to select.
Steps To Measure Your Dogs Paws For Dog Boots
Put a piece of paper on the floor and place one of your dog's front paw on the paper.
Lift the opposite front paw so all the weight falls onto the standing foot and it fully expands.
Trace around your dog's paw, remove the paper, and measure the widest part of the outline.
Follow the same steps with one back paw, because sometimes the front and back paws are different sizes.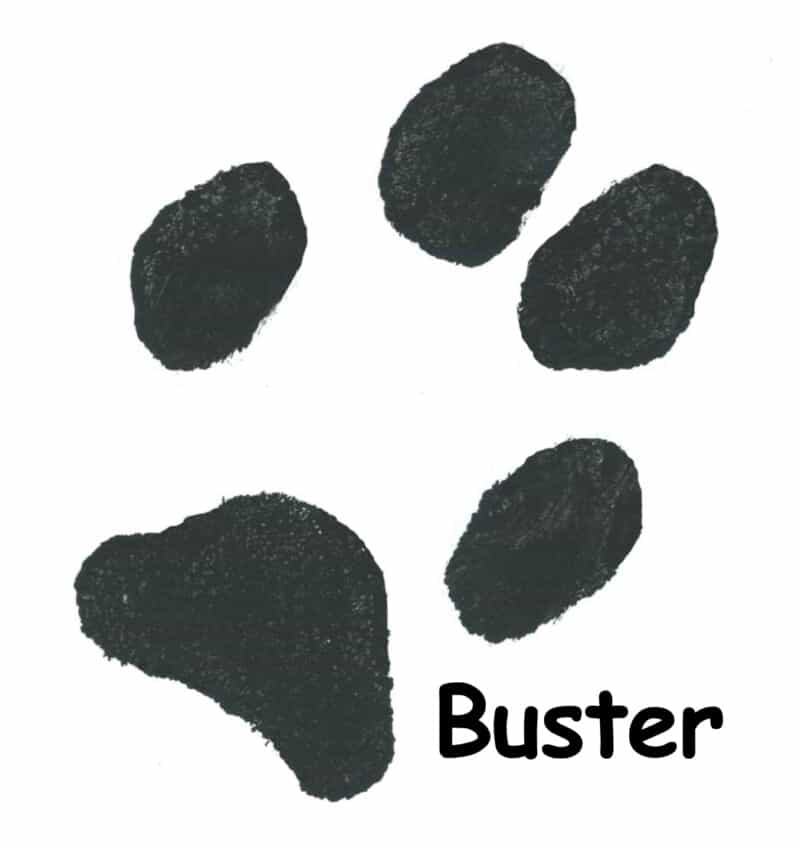 Sizing Challenges
If you find that your dog's front paws and back paws are different sizes, look for companies that sell boots in sets of 2 or as singles. This allows you to make sure your dog is comfortable in his boots.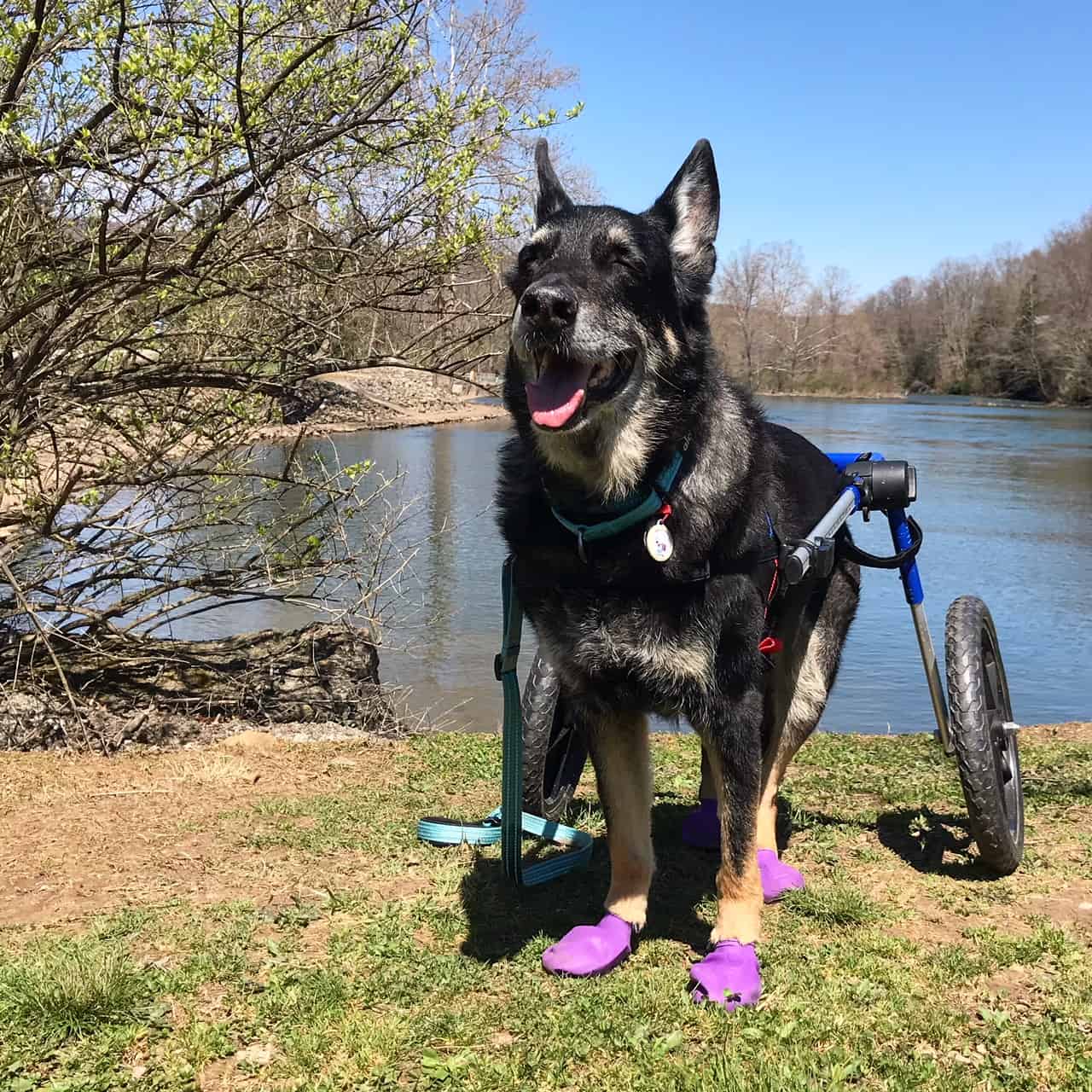 Finding The Best Dog Boots
The "thrill sniffer" tagline molded into the tread of these boots is a perfect description. Alcott's Adventure Boots for dogs stayed on Hercules as he followed his nose scrambling across anything and everything in his path!
The front gusset built into the boot makes them easy to slide on paws and adjust placement. And the tread is pliable but firm so your dog won't feel any of the sharp rocks or rough surfaces along the way. Plus, there is plenty of reflective material on the straps to keep an eye on your pup in the dark.
Favorite Feature: The double straps combined with the flexible material on top made these boots the easiest to secure. Every dog is different, and Herc has fairly skinny legs considering how wide his front paws are. With this boot, I was still able to tighten the tops enough so they stayed securely in place.
Room for Improvement: Alcott's boots only come in a set of four, so you'll need to purchase two sets if your dog needs different sizes for his front and back paws.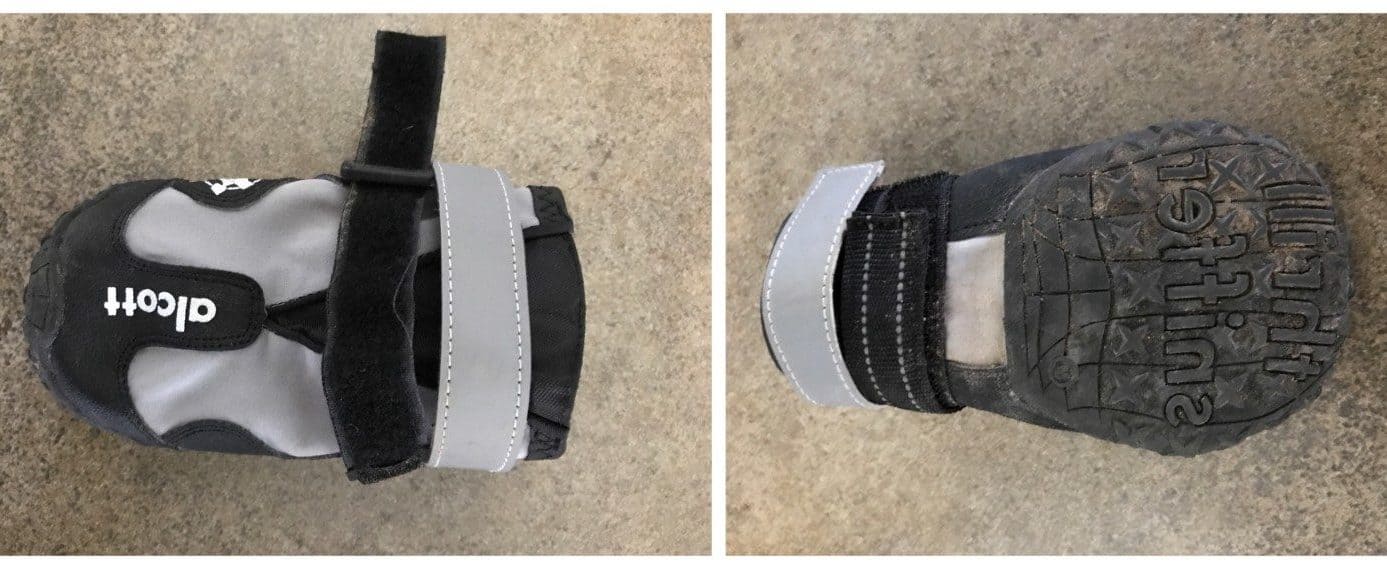 Flexibility goes a long way for comfort and fit, and the Hurtta Outback Dog Boots nailed it! The entire boot flexes with your dog's paws, and stands up to any tough terrain you cross.
The inside tag makes it easy to tell which boot goes on which paw, and also provides a place to write your phone number in case a boot gets lost.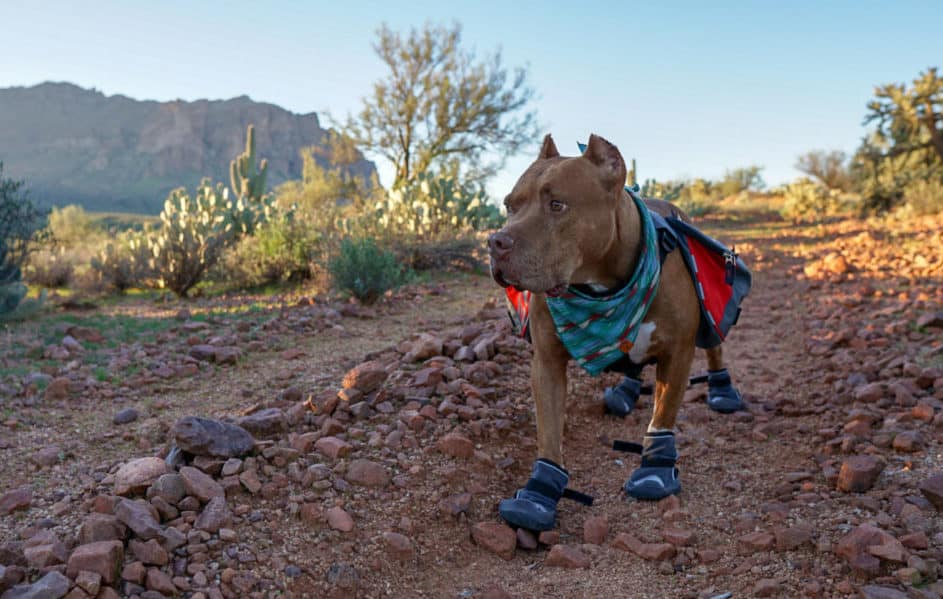 Favorite Feature: The way these boots open down the front makes them the easiest to put on—so helpful with Herc's big meaty paws!
Room for Improvement: The single strap can be tricky to wrap in a way that keeps the boot secure while leaving enough hook-and-loop material uncovered to stick to.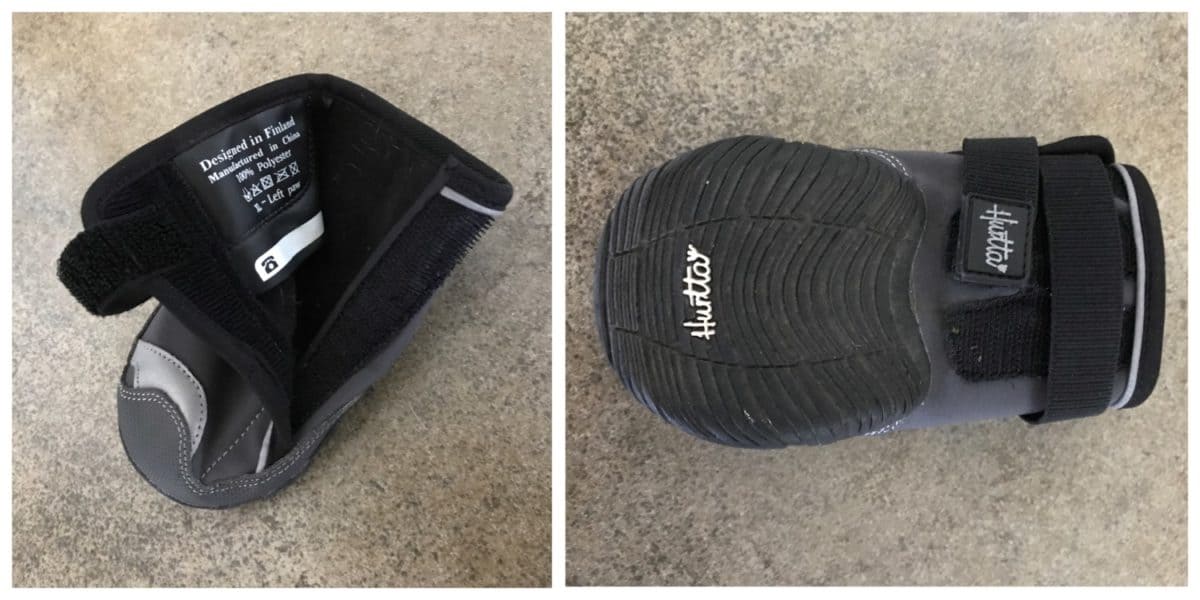 If you like after-dark excursions, Kurgo's Step-N-Strobe Dog Boots should be your top pick. Red and green LED lights along both sides of the sole flash with each step. Plus there is plenty of reflective material to keep your dog seen and safe.
These were great for our walks in the dark, and also performed well on the trail. The tops cinch up with a velcro strap and an adjustable elastic cord, keeping the boots in place.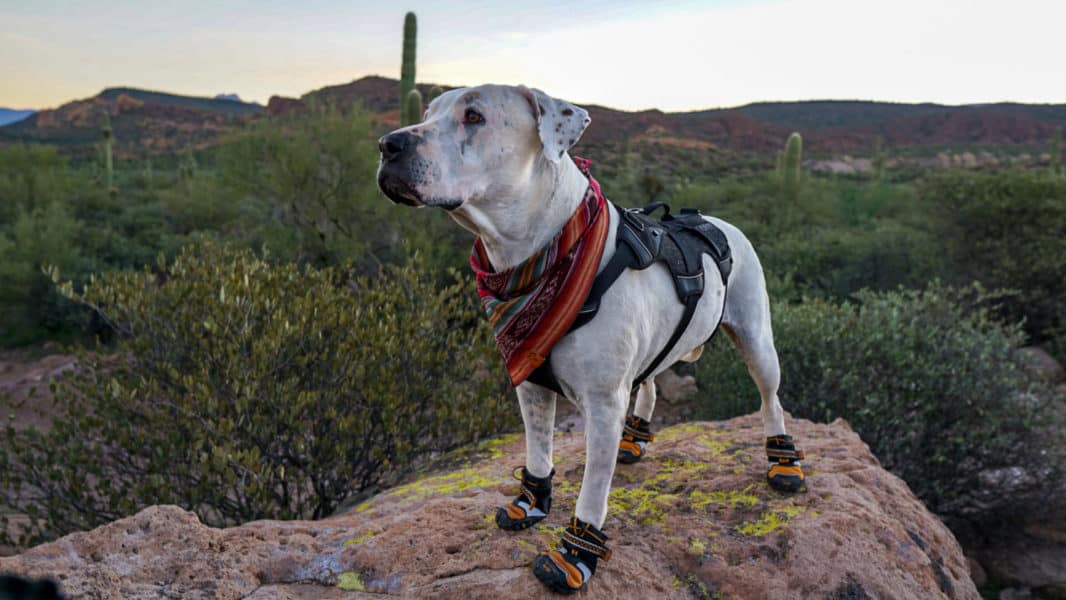 Favorite Feature: These were the tallest boots in the group and that feature made a world of difference in securing them to Cool Whip's paws. They had plenty of height to get up and over those pesky dewclaws!
Room for Improvement: Herc has thick paws, and these boots didn't accommodate him, even though they were the correct width.

Sometimes simplicity is best. And, in that case, Pawz dog boots have you covered. The rubber material for these boots is waterproof and durable so you can trust it to cover an injured pad, cross hot pavement, or protect sensitive paws during a walk.
They're also inexpensive and easy to pack, so you can toss them in a bag as you head out for the day or on vacation. Cool Whip normally does some "high stepping" with other dog boots for the first minute or two, no matter how often she's worn them – but she barely seemed to notice these once they were on. They're just an extra layer of protective skin.
Right out of the package Pawz boots can be tight around your dog's legs. Stretching the tops out (like you would a balloon before you blow it up) helps make sure they're comfortable for your pup.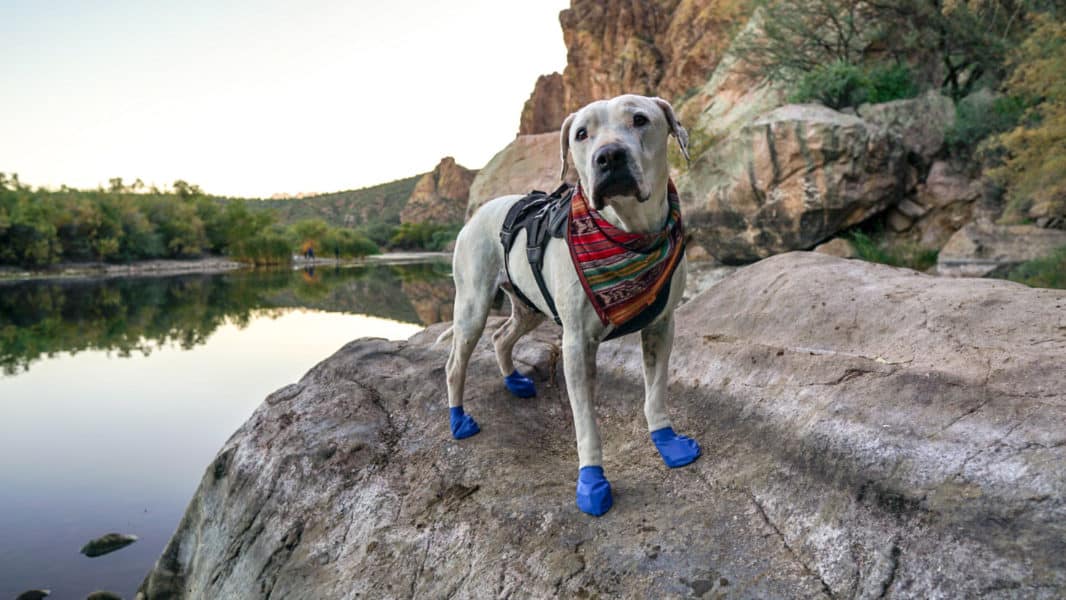 Favorite Feature: Easy to bring anywhere, and each pack comes with 12 boots so you can leave an extra set in the car, in a purse, or even in your pocket. A lightweight boot good for dogs with allergies to grass. And they come in seven sizes!
Room for Improvement: Not durable for rough or rocky terrain. And you need to keep your dog's nails short of they will poke through the rubber.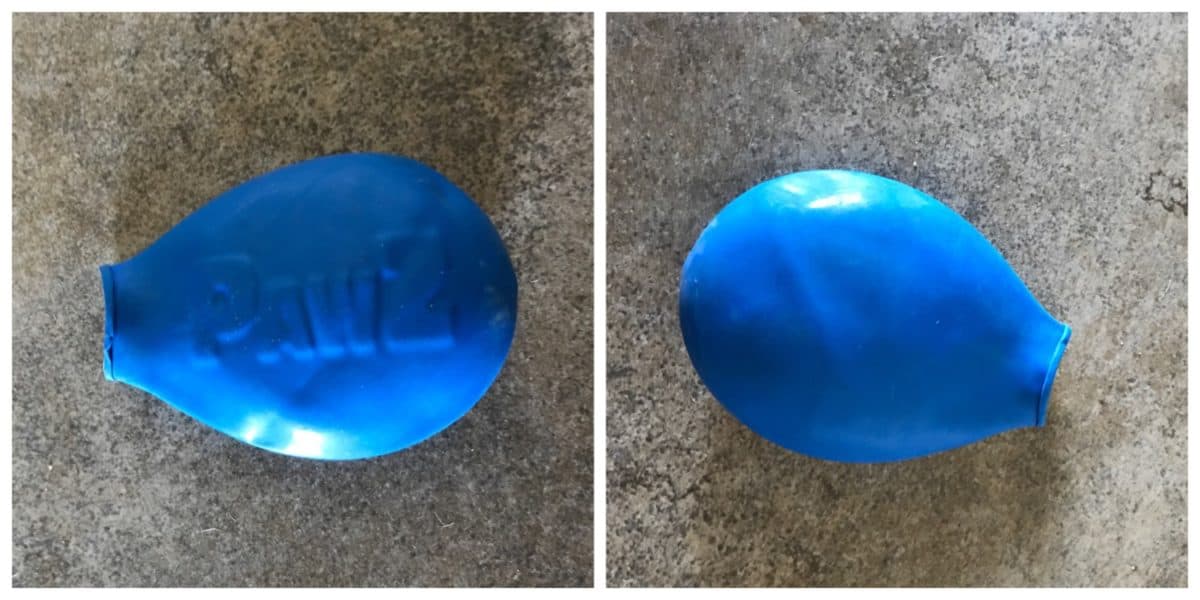 Serious adventure ahead? Ruffwear's Grip TREX dog boots can take it on! They're solid and grippy for any surface your dog needs to cross.
Some of the rocks Herc chooses to scramble get a little slippery because they're so smooth. But his footing doesn't miss a beat in these boots! He's like a little mountain goat, but with tiny ear nubs instead of horns.
The boot tops are low, which could be a plus or minus depending where they land with your dog's dewclaw, but Ruffwear also sells dog boot liners to add padding (or insulation in the cold).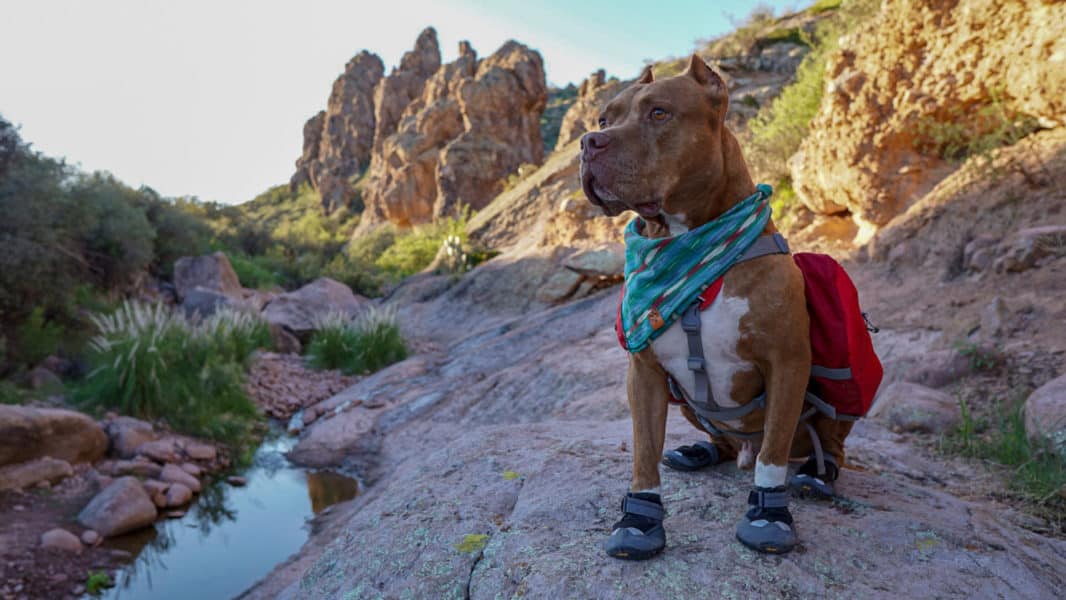 Favorite Feature: The Ruffwear treads deserve the accolades here—they're the best in the group. And you can purchase these boots in sets of two or four.
Room for Improvement: The top is a bit bulky for the single strap to form a 100% secure fit.

Visit our Amazon store to learn about more products we rely on to make traveling with pets easier, safer, and more fun!
No matter which type of paw protection your dog needs, there's a dog boot out there to do the job! Leave us a comment if your dog has tried any of these boots, or if there is a different style you'd recommend.
Happy adventuring!
Amazon Affiliate Disclosure: GoPetFriendly.com LLC is a participant in the Amazon Services LLC Associates Program, an affiliate advertising program designed to provide
a means for website owners to earn advertising fees by advertising and linking to amazon.com, audible.com, and any other website that may be affiliated with Amazon
Service LLC Associates Program. As an Amazon Associate, the owner of this site earns a commission from qualifying purchases.
(Visited 55,182 times, 1 visits today)