There are a lot of reasons to keep your dog busy indoors! It could be the weather, an injury, or an illness that prevents you from taking a nice, long walk with your pup. Whatever the reason, these enrichment games for dogs will keep your pooches entertained until you get back to their regular routine.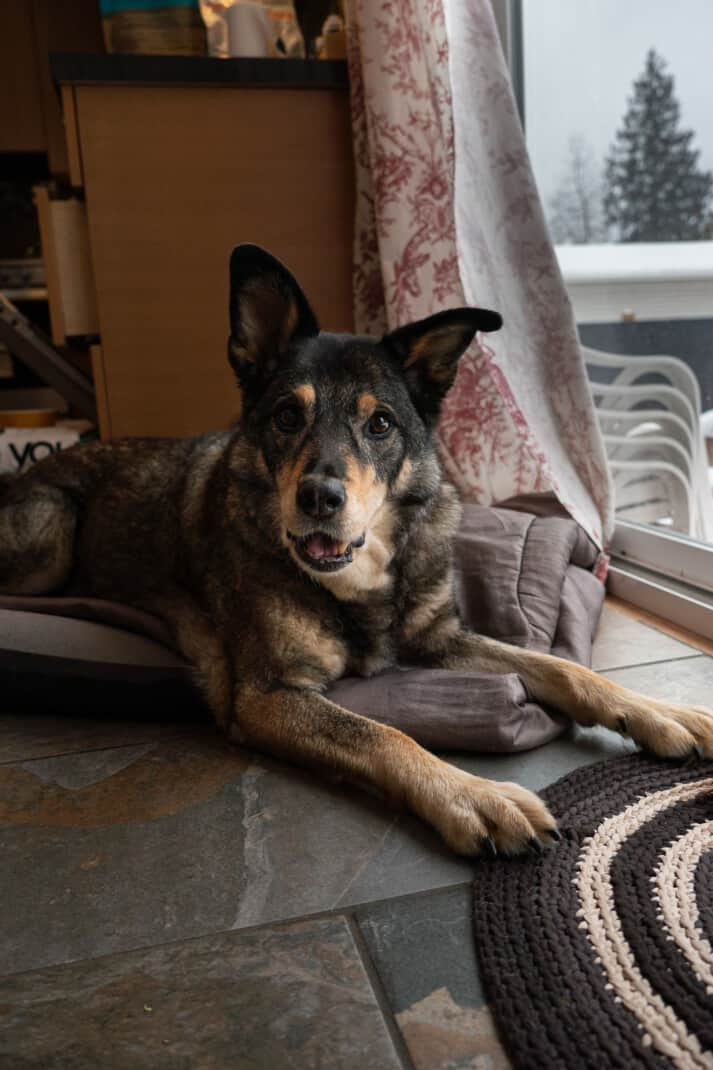 Here in Canada, we use stormy winter days and long nights to invent new ways to keep our dog's busy and having fun inside. Enrichment games for dogs can be made easily with some items you probably have laying around the house. And in just a matter of minutes, too!
Designing puzzles for your pooch to solve and making a mini indoor obstacle course can help keep your dog satisfied on those days when you just can't get outside. A lot of the games engage their natural instincts such as searching and foraging, which they'll think is a blast. What dog doesn't love sniffing out some treats?!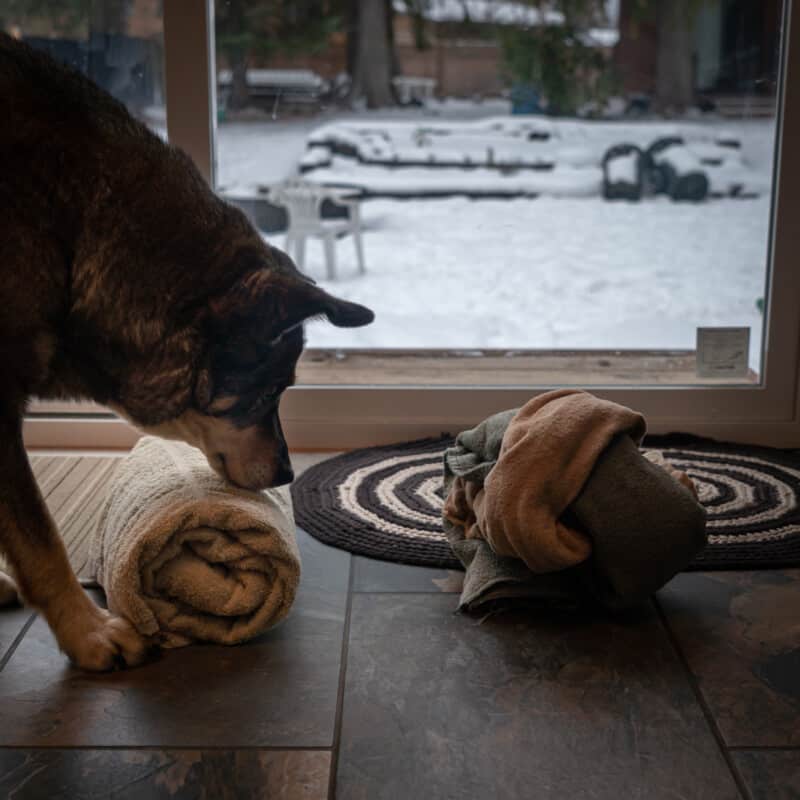 Does Your Dog Need Enrichment Games?
Do you need to bother making enrichment games for your dog? Yes! Because mental stimulation is just as important and physical stimulation for dogs. In addition, these enrichment games for dogs could also:
Divert your dog from destructive chewing
Prevents boredom that can lead to 'finding his own things to do'
Reduce anxiety
Decrease unnecessary barking
Prevent cognitive decline as pets age
Just 10-20 minutes a day can give your dog's mind the mental stimulation he craves. And you'll get to watch him build his problem solving skills and confidence. Plus the added benefit of a joyful wagging tail.
There are a plethora of games available from your favorite pet store to choose from – I'll let you know a few faves and handy ones we have. But before you go shopping, I'd like to share with you some DIY enrichment games for dogs you can make right now for free!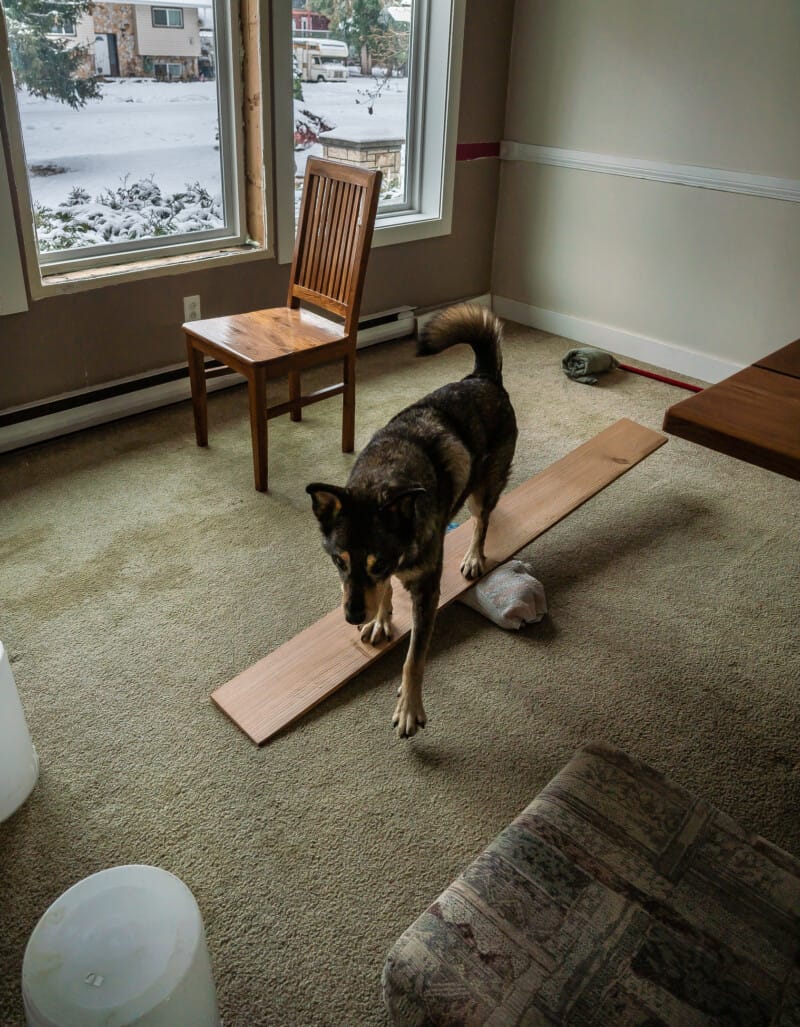 Enrichment Games You Can Make For Your Dog
With a few supplies – some you might even save from the trash – you and your dog will be having fun together in no time.
Keep in mind that you don't need to use treats to play these games. If your dog eats kibble, feeding him his meal as rewards in the games is an option, too!
"Egg" Hunt
Really get your pup's mind working by teaching him to search for the magic "egg" (or "eggs") in this enrichment game. There are two ways to design this game. The first option is to use an actual egg carton. The second way is to divide a small box into sections.
Whichever works for you, the next step is to fill the container with the paper eggs. It's completely up to you how many of the "eggs" will have treats in them. You can make it different every time!
Keeping your dog guessing makes it more exciting for him. So, decide if he'll be looking for one prize amongst them all, or savoring twelve!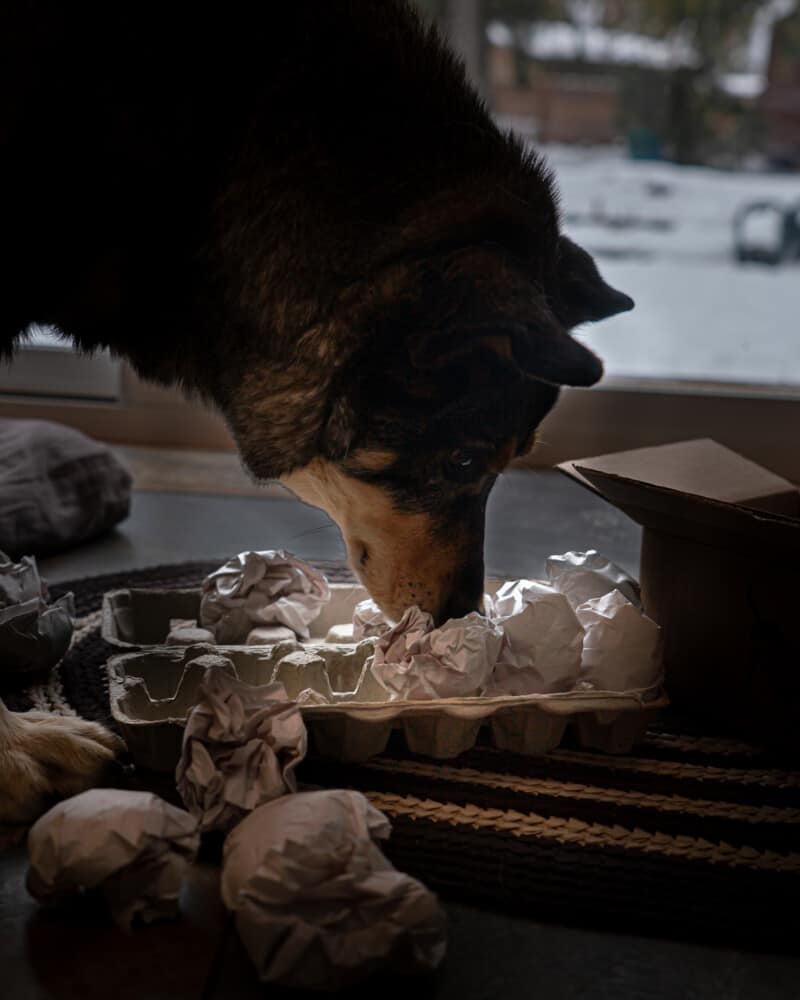 Indoor Obstacle Course For Dogs
To create an indoor obstacle course for your dog, begin by gathering items like towels, buckets, cushions and a broom handle. The more often you make up indoor obstacle courses, the more random ideas for new obstacles will come to you.
It can always be different, making it really fun and engaging for both you and your pooch. Here are some ideas to get you building your first indoor obstacle course!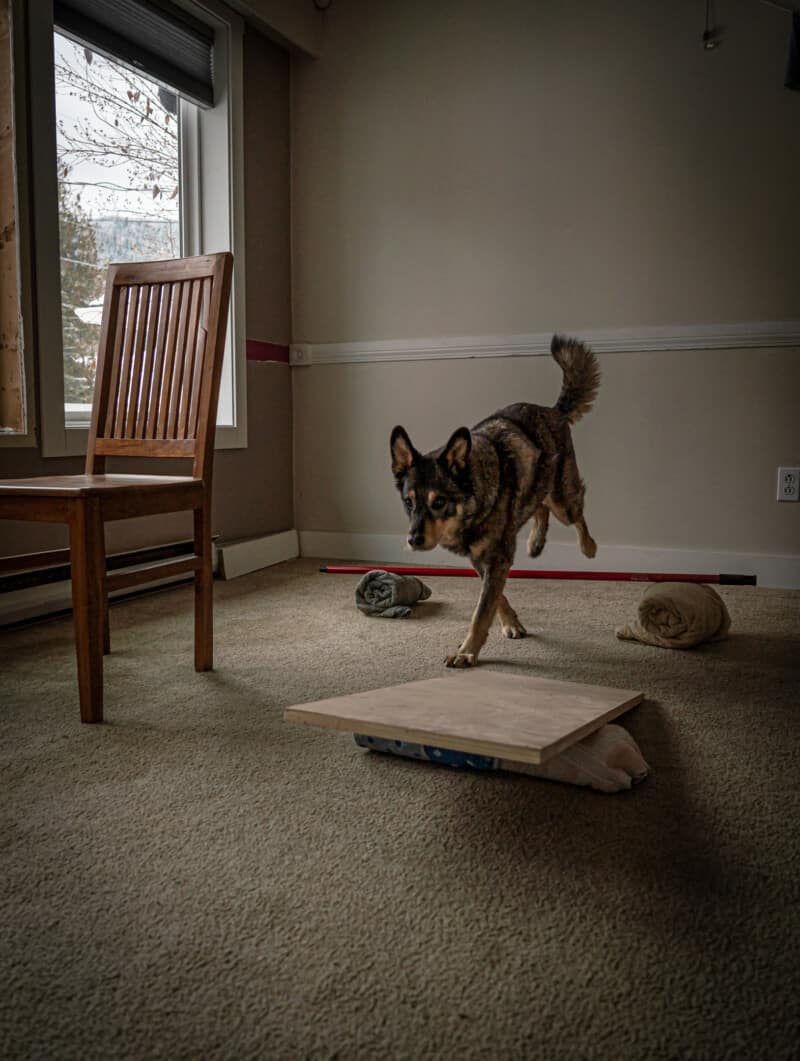 Jumps are one of the most common items you'd find in an agility course, and you can make one (or many in a row) pretty easily in your living room. The most important part to making one is to make sure your jump bar easily falls off its stand. This is so your dog will not trip if their paw knocks the bar. If you find your pup is bumping the bar, lower it until they get the hang of their jump.
Riley also likes a small teeter totter made with a plank and a few rolled towels. Then switched it up and use the plank just as a 'walk-it' obstacle.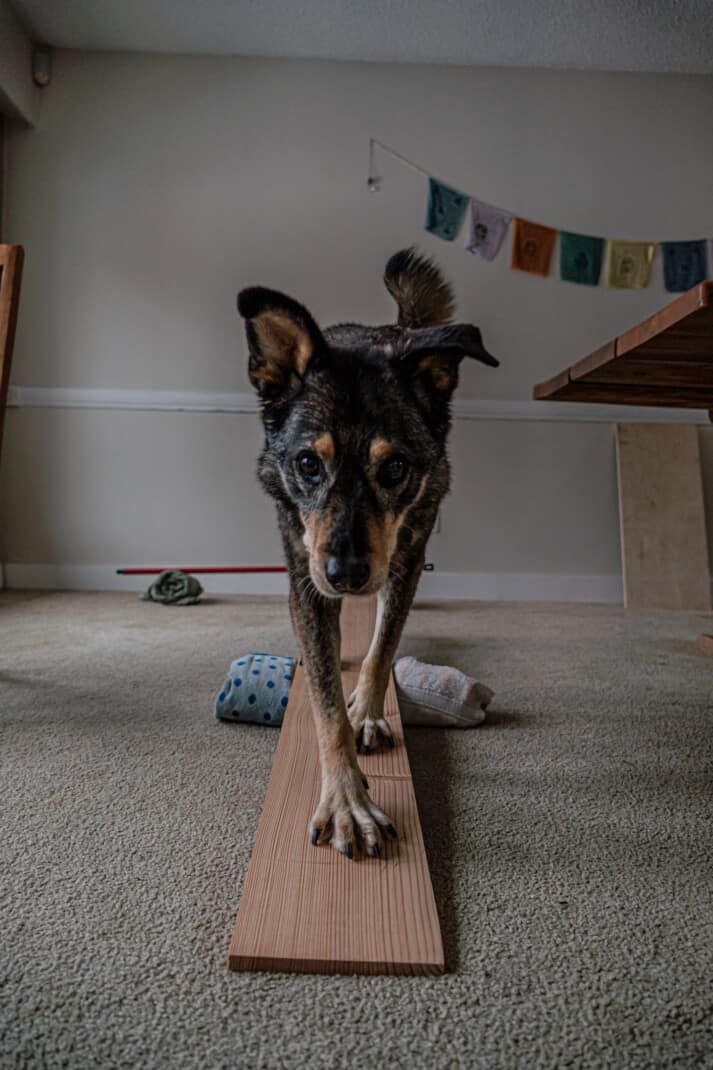 Next, I added a row of buckets for Riley to weave around and a couch cushion where he could do a "down-stay."
When I was ready to change the course I added a series of rolled towels to create a ladder effect where he can practice paw awareness by stepping cleanly over them.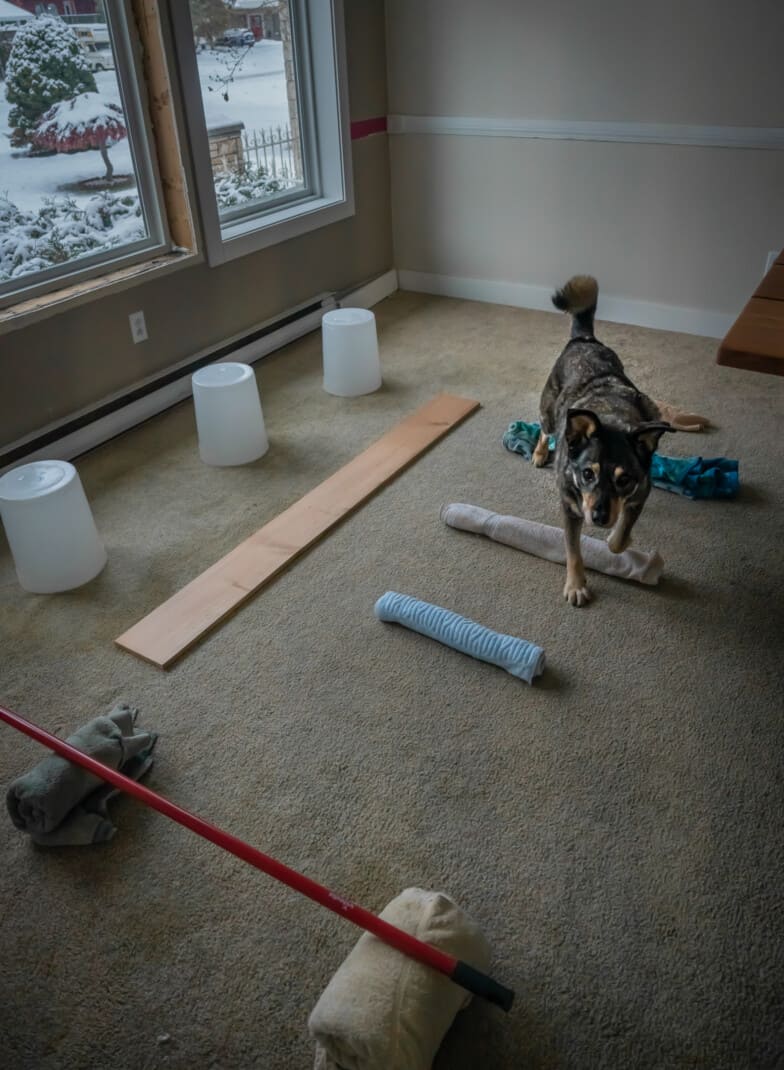 Towel "Fruit" Roll Up
If you don't mind getting some fruit juice and colors on your dog towel, you could truly make this a doggie fruit roll up game! For a cleaner game use some dry treats.
To start, lay the towel out flat, place a few treats on one end, roll a bit, and repeat until the towel is fully rolled and full of snacks.
For more difficulty, have your dog sit-stay and watch you fill the towel.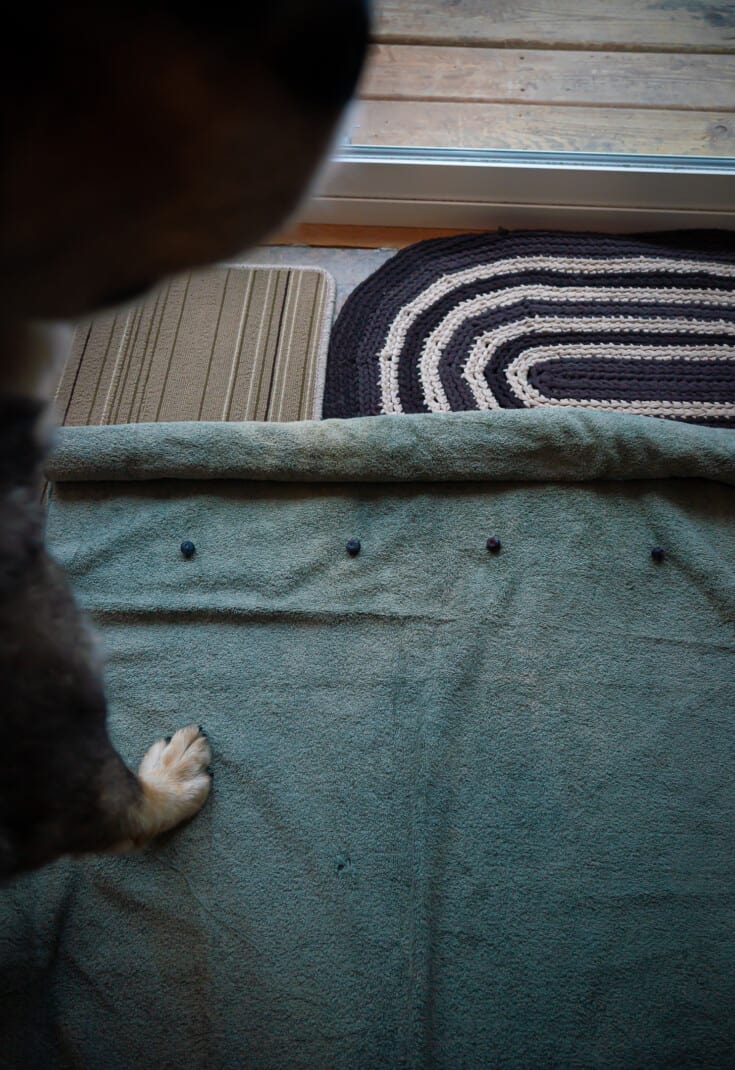 Then release your pup to snuffle out the treats. If you find you need to up the challenge of the game, tie the towel into a knot, or knot it with a second towel.
Keep an eye out to make sure chewing through the towel doesn't become your dog's preferred method of getting to the treats. If so, you could opt for playing the game with rolls of newspaper instead, so that shredding is okay!
Snuffle Treasure Chest
Snuffle boxes (and mats) are great enrichment games for dogs and a fun way to give your pooch a nose workout and get that tail waggin'! The search for hidden snacks is definitely one of Riley's favorite activities.
To play this game, start with a cardboard box and some newspaper or brown packing paper that is ready for recycling. Pick a box that is the appropriate size for your dog's height so he can snuffle all the way to the bottom. Or go for one that is big enough for him to jump right in and root around. (So cute!)
To ease your dog into this game, place treats inside the box with newspaper lightly placed on top.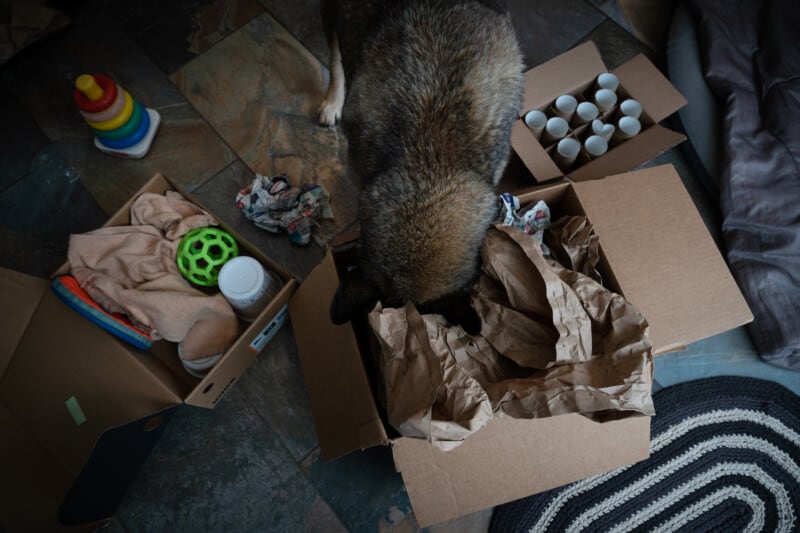 From there you can begin to increase the difficulty level of the game by adding more and more paper, smaller boxes with treats inside, or bunching up balls of paper with treats in the middle. You can also add their toys, a towel "fruit" roll up, or any other safe, light-weight items you can think of to provide different sensory experiences for your pup.
Repurpose Children's Toys
The pet store isn't the only place to find a dog toy! The children's toy aisle of your favorite consignment shop is another opportunity to look for fun for your dog. With a bit of practice your dog could be stacking up rings like this!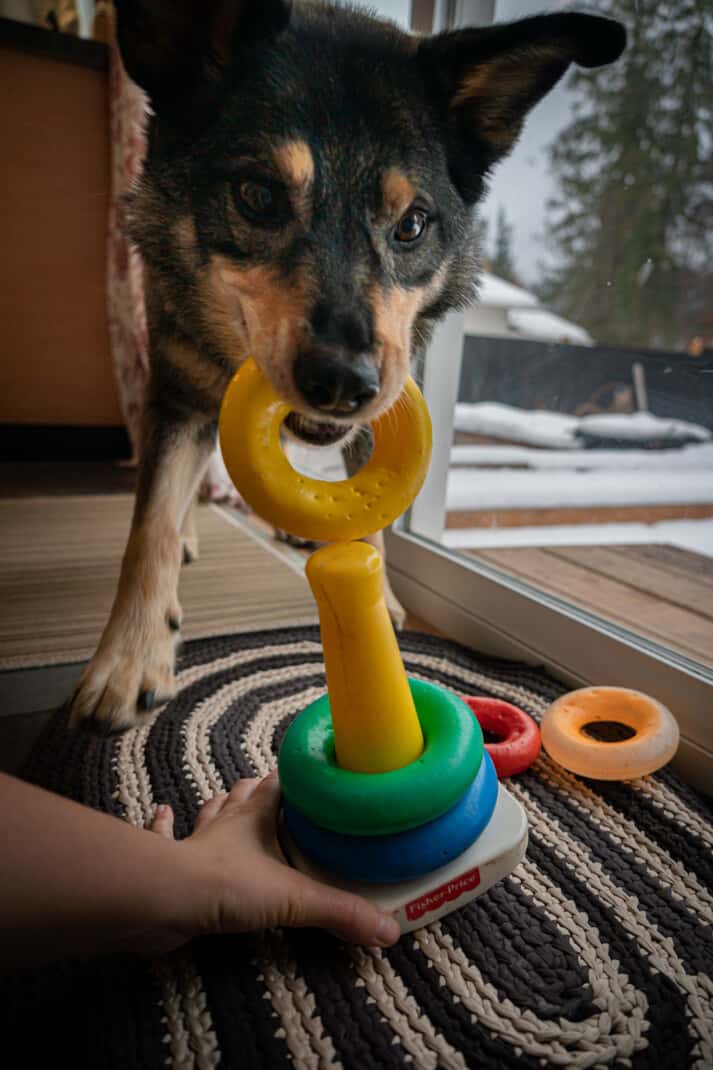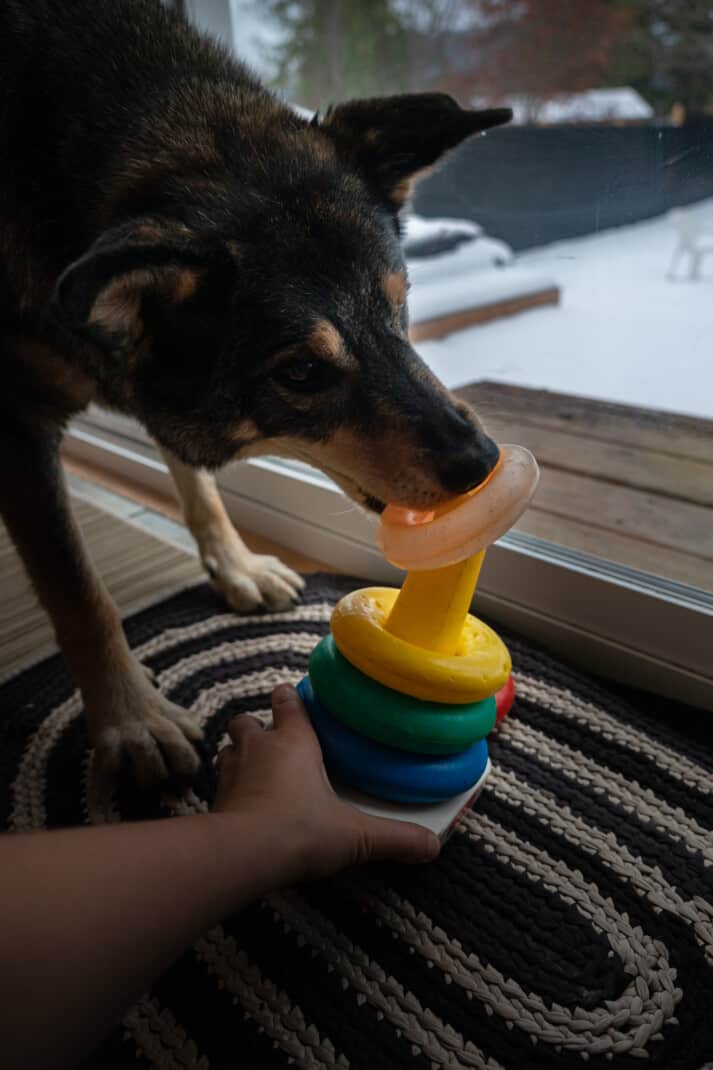 Bottle Tumbler
For this dog enrichment game you'll be digging into your recycling bin again for a plastic beverage container. I also chose a sock that was ready for retirement to cover the bottle because I wanted a softer mouth feel for Riley.
Next, cut 1-3 holes in each side of the bottle (more holes to make the game easier). Then, drop a handful of treats into the bottle and replace the cap.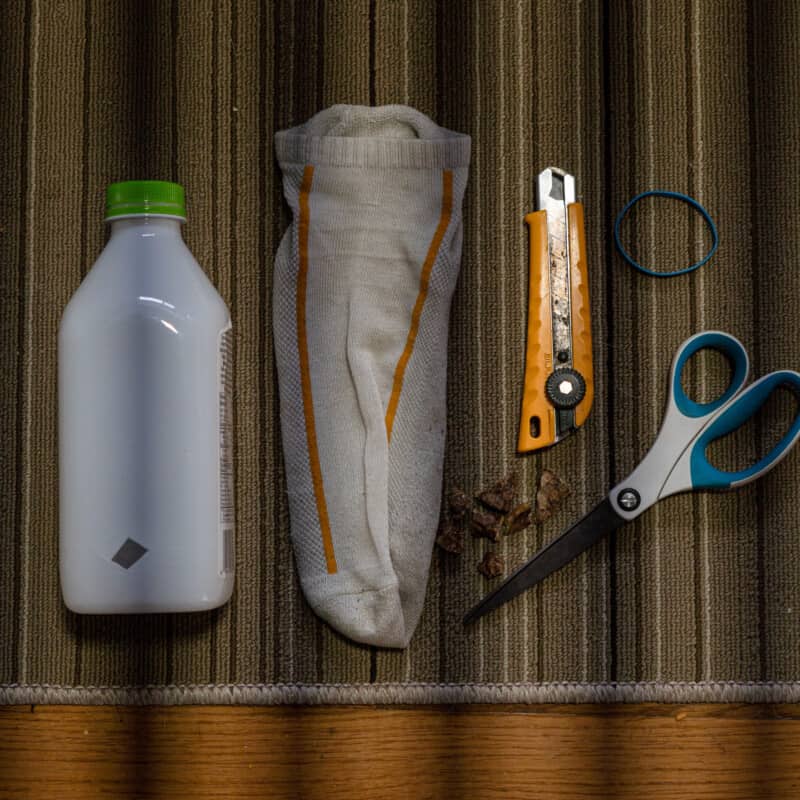 This game can be played two ways. The first is simply to place the bottle on the floor for you dog to boop around.
If your pup isn't sure what to do at first, show them how treats fall out as you push it. Soon they will be eager to try it themselves!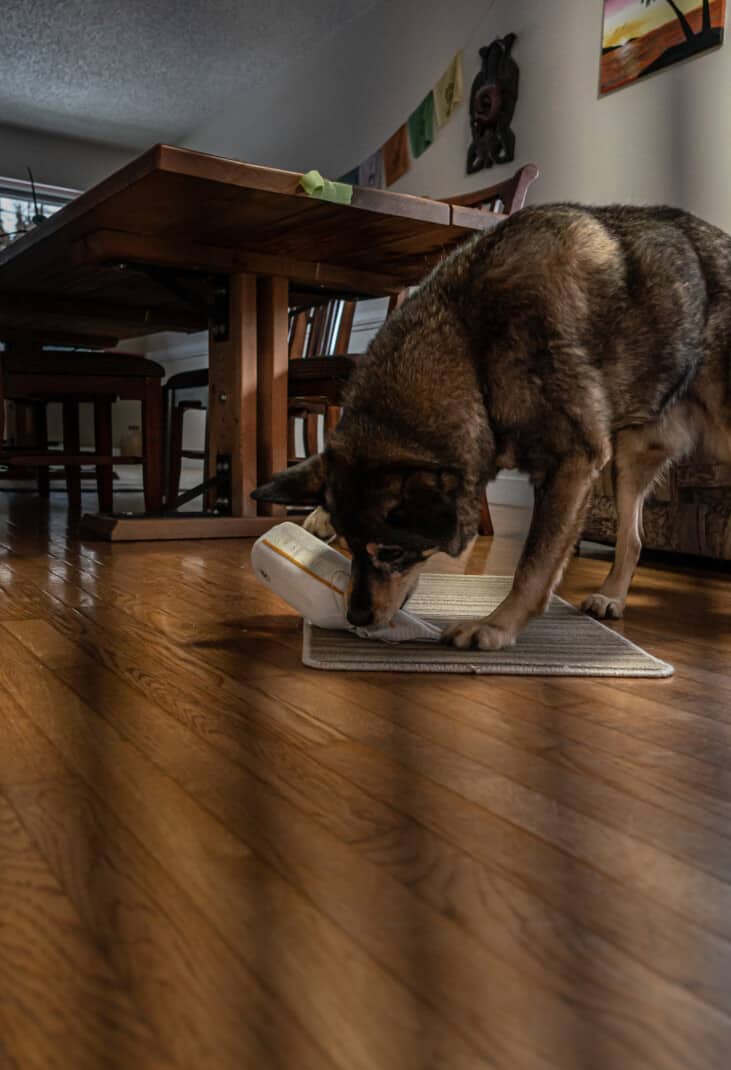 To increase the challenge, string up the bottle to an appropriate nose height for your pooch. This requires more problem solving skills to retrieve the treats. If your pup is up for the challenge, it will be very entertaining for them!
As with all these games, you'll want to decrease the difficulty if you find your dog is feeling discouraged. Only play the games your dog loves and increase the difficulty as it is appropriate for them.
Tip: Always stay with your dog to monitor how they play any enrichment games you provide. That way you can make any safety adjustments to their playing style.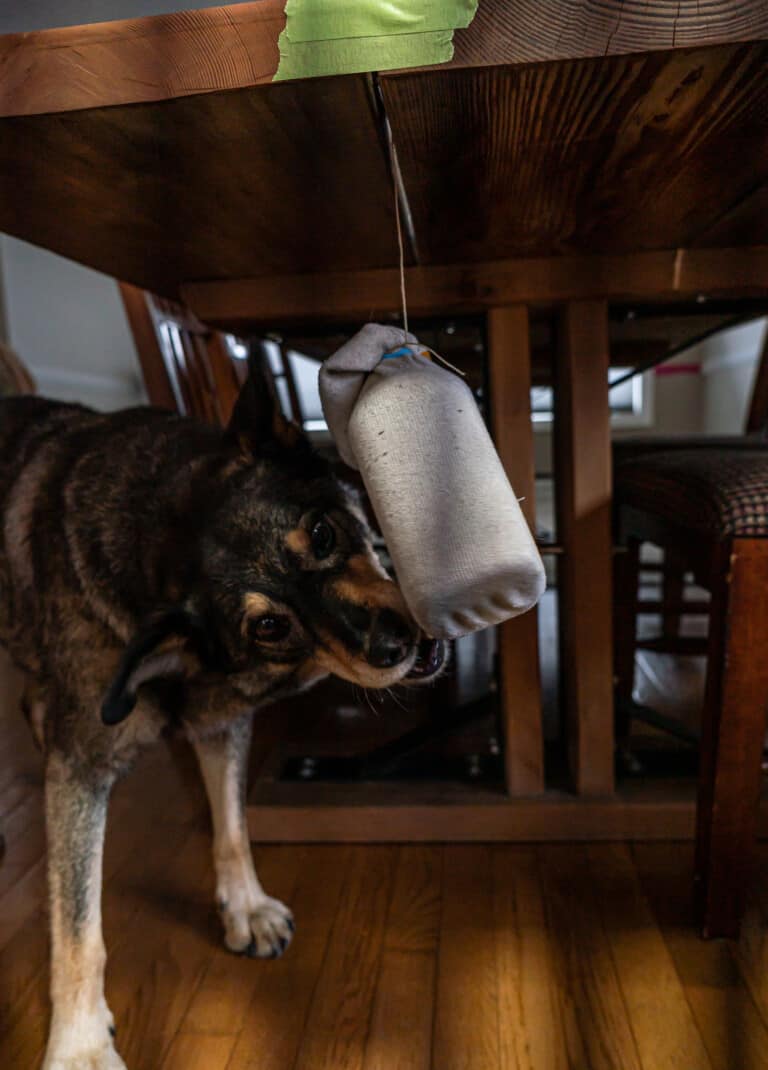 Bonus – Teach Them To Help You Clean Up
Once the cardboard is shredded and toys are everywhere, continue your pup's engagement with a clean-up 'pawrty'. A lot of dogs actually like to have 'jobs' like this, so give it a try by teaching your dog to pick up items and place them in a bin.
They'll love to see how happy their help makes you and be especially proud and confident in themselves for a task well done!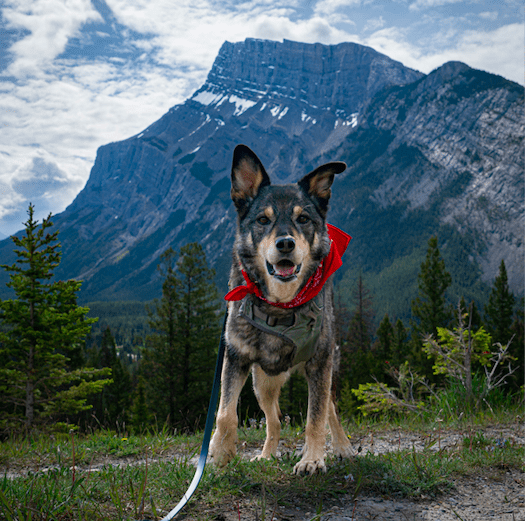 A Few Of Our Favorite Purchased Enrichment Toys For Dogs
GoPetFriendly may earn commission or revenue on some items through the links below.
Toppl
Toppls, along with other styles of feeding bowls and mats are so handy for getting meal time to last longer! I think it's pretty safe to say that most of our dogs love eating. So having something that extends their favorite activity is really nice! Riley always looks so soothed, relaxed, and blissed out when he's working on his Toppl.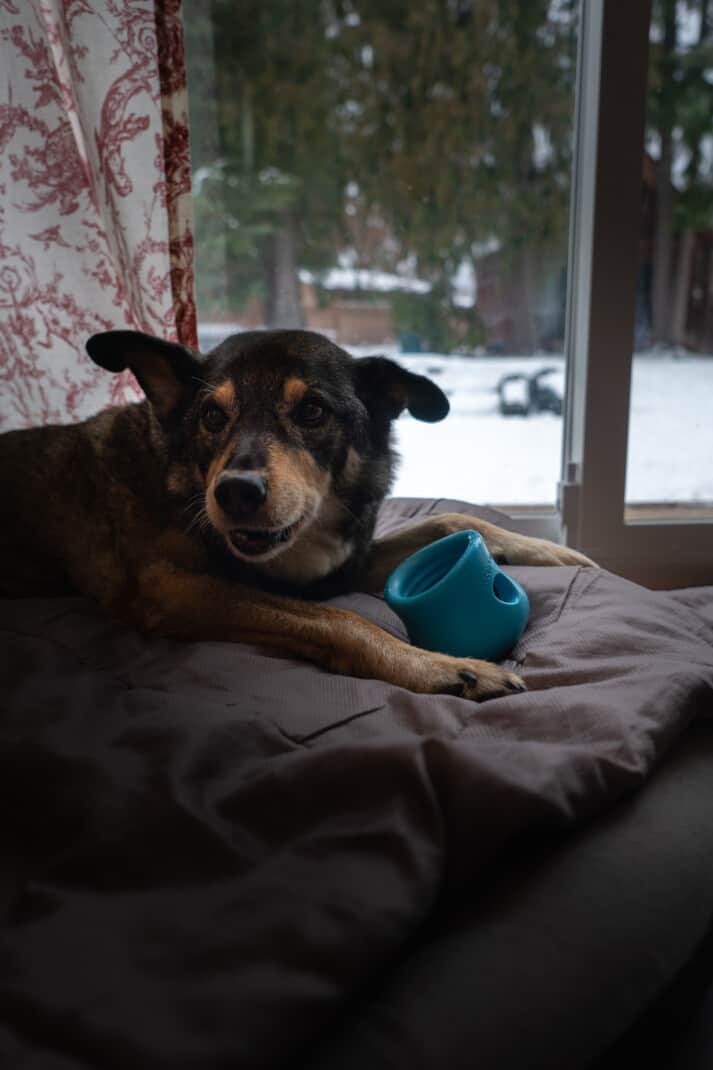 Treat Ball
Treat balls are awesome for how interactive they are, as well as their ability to promote movement. I get Riley moving around every morning with one before breakfast to wake up the body and mind. These create strong focus for their minds as they 'hunt' all the treats.
To keep your pup busy without frustrating you, be sure to buy a treat ball large enough that it won't roll under your furniture!
Remember: You can also create a DIY style of this game with a plastic bottle.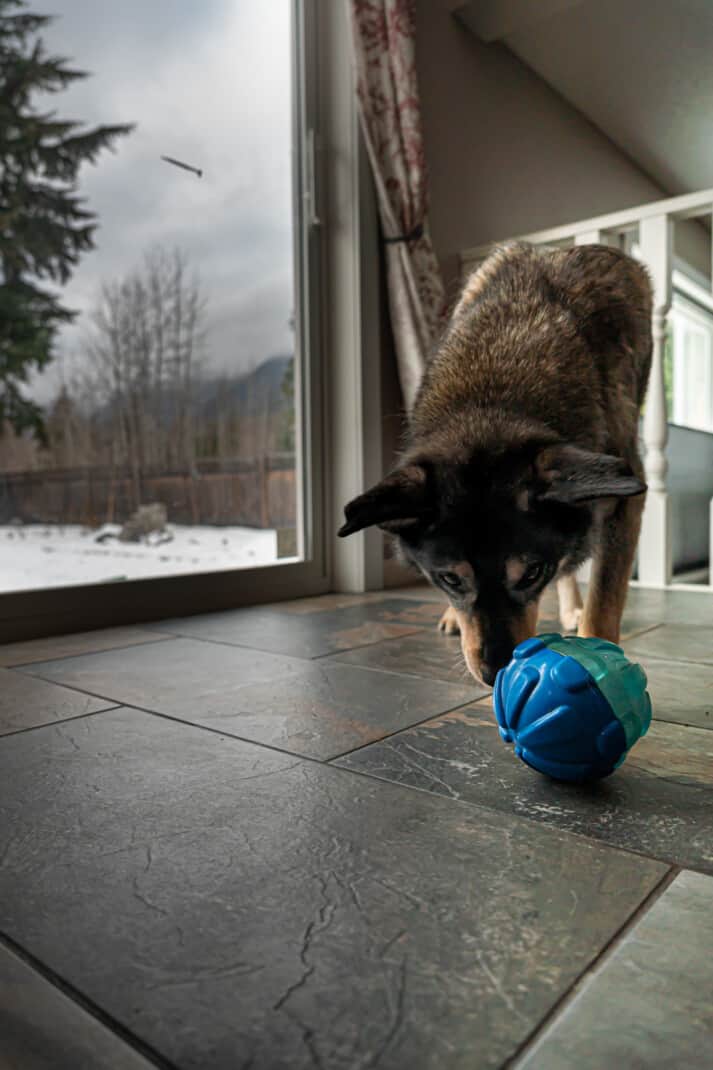 Hol-ee Ball
The Hol-ee Ball doubles as a toy for fetch and a toy for mental stimulation! To make this toy into an enrichment game for your dog, roll up pages of newspaper with treats. (Like the towel game). Then wind and twist the paper through the holes.
Your pup will sniff out treats inside and begin problem solving by tugging on the paper to release the treats.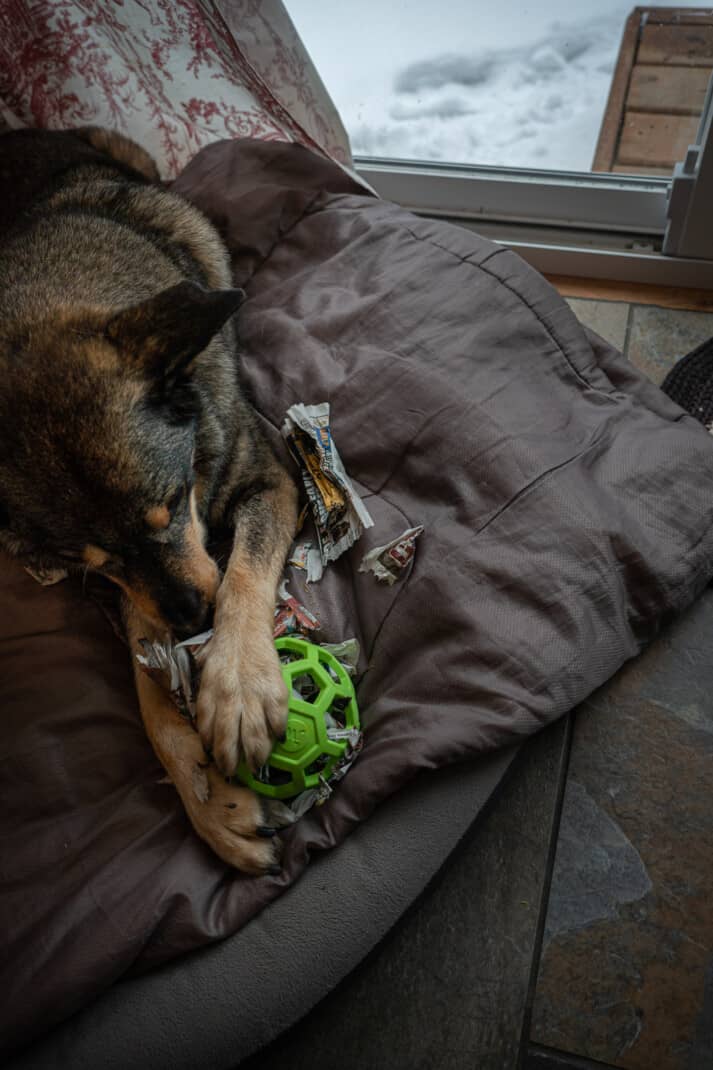 It's really wonderful how much our dogs can benefit from making these simple games from items we'd just be tossing anyway! Now your recycling bin is a gold mine for creating fun DIY indoor enrichment games for your dog! Save up a few extra newspapers and boxes for your next stormy day.
Visit our Amazon store to learn about more products we rely on to make traveling with pets easier, safer, and more fun!
Amazon Affiliate Disclosure: GoPetFriendly.com LLC is a participant in the Amazon Services LLC Associates Program, an affiliate advertising program designed to provide
a means for website owners to earn advertising fees by advertising and linking to amazon.com, audible.com, and any other website that may be affiliated with Amazon
Service LLC Associates Program. As an Amazon Associate, the owner of this site earns a commission from qualifying purchases.
(Visited 1 times, 1 visits today)